This week Philly Sketchfest will be taking a look back at the year 2015 through the eyes of the writers, performers, directors and producers that make sketch comedy in Philadelphia a reality. Nicole Yates is a stand-up comedian, co-creator of the Black Friday Comedy Marathon at Philly Improv Theater (PHIT) and since 2010, the host of the popular 'foodie' blog and podcast, DidjaEat?. It would be an understatement to note that Nicole is a fan of sketch comedy. She has been instrumental in not only bringing Philadelphia stand-up and sketch comedians together but also their audiences. Whether she's performing stand-up as an opener at sketch shows or featuring sketch writer/performers as guests on her Fighting Burrito Comedy shows, we're extremely thankful for her support of sketch comedy as part of the Philadelphia comedy community. And if we know Nicole, she'll likely in attendance tomorrow night, on New Year's Day, to see 17 Philadelphia-based sketch groups perform their first sketch of 2016 at our Sketch Hangover! In the meantime, please enjoy Nicole's look back at Philly sketch in 2015…
&nbsp#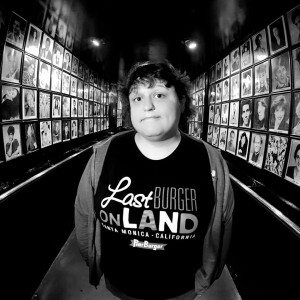 I am a standup comic but I have a lot of love in my heart for sketch comedy. I grew up in the 1980's and 1990's with SNL, Kids in the Hall, Mr. Show, and lots of reruns of late 1950's and 1960's sketch variety shows (along with anything else I could get my hands on). So, when I found out there was awesome sketch in Philly, my heart grew 2 sizes (it would have grown 3 but I already have a weight problem and my doctor yells a lot). Whether it is video or live, sketch comedy lives in Philly because of the great writers and actors who bring this silliness to life. While this list is not in any kind of order, it was hard for me to put together because I have seen so much amazing stuff in 2015. My hat is off to all of you, and here's to an amazing 2016! (photo by Troy Conrad)
&nbsp#
Good Wheel Hunting – Mechanic and The Pope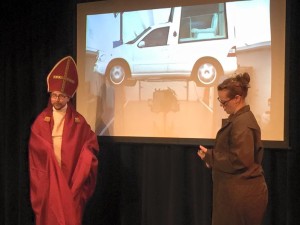 From the most recent Iron Sketch show comes a silly sketch where the Pope has to go to a mechanic to get his Pope-mobile fixed. Is it Brian Kelly as the (Italian?) Pope who keeps insisting that "I'm-a silly Pope!" that makes me laugh? Or is it Teresa 'Tee-Nutt' Nutter as the mechanic who plays it so straight? I don't know. What I do know is that I've seen them do this sketch twice and I keep missing dialogue because I'm laughing so hard.
&nbsp#
&nbsp#
&nbsp#
Barbara Bush – Denise the Ball-Buster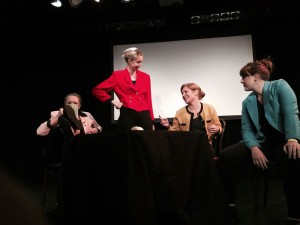 Barbara Bush sketches make me laugh so hard because they are all so smartly written. But this one is my favorite. Kathryn Amrhein, Julia Hudson, Courtney Painter & Shawna Stoltzfoos are 'business women' seated around a table talking about another woman in the office who is a ball-buster. Every time the phone rings, it's answered and the dialogue from before the call is repeated. Then the four begin to rotate seats around the table and they continue repeating the same lines of dialogue from before but based on where they are sitting. I'm not describing it very well, but this is a sketch that hinges on everyone's performance being in sync. It's a ridiculous roller-coaster.
&nbsp#
Goat Rodeo – Philly's Unofficial Papal Welcoming Committee

One of my favorite people in town is Christian Alsis. I love his standup, I love talking about food with him and watching him in sketch stuff is always a delight. The Goats went and wrote a sketch about tailgating the Pope visit and when I saw it live, I wished I had it on video so I could watch it again. And then they filmed it! Alsis & Jimi Haak nail the Delco/South Philly accent (Yeoooo!), the Pope song, the tailgate food ("we got some jalapeno pope-ers"), Kevin Pettit puking, all the way to one of my other favorite people, Dan Corkery as the token Protestant/Cowboys fan. It's so good and so very, very Philly.
&nbsp#
The Incredible Shrinking Matt & Jacquie – Daughter's Arms

In this sketch, Matt Schmid plays a Dad having a birthday and his daughter, played by Jacquie Baker, wants to do that thing where you stand behind someone and pretend your arms are their arms. When she insists he tell the story of the night she was born, things get dark quickly. This sketch easily could have just been sad, but Jacquie continues to flail her arms around, making it almost seem like a twisted scene in a Muppet movie.
&nbsp#
Goat Rodeo – Wizard Store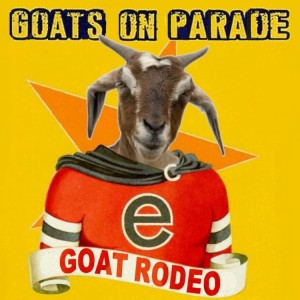 This sketch is about a Wizard store (for all your Wizard needs!). The scene stealer though (and it's so hard, with Christian Alsis yelling at Dan Corkery & Jimi Haak in full white-beard-wizard-gear) is Zach Uzupis killing it as the dragon, who eventually gets killed. Besides being hilarious, Zach commits SO HARD to being a dragon, it pushes the stakes way, way over the top. Zach is one of my favorite performs because his commitment level is always on 26.
&nbsp#
&nbsp#
&nbsp#
&nbsp#
&nbsp#
&nbsp#
Sketchier – Love The Wine You're With

Caitlin Weigel and Dan Corkery have been doing some fun video sketches but this one is just so silly but such a dead on parody of Food Network shows. Caitlin really plays great characters and 'Linda Portsmith' is right up there (the hair, the over descriptiveness of the wine and even her hand motions are Food Network gold). Even the name is perfect. I also love this because it's super short: gets in there, is super hilarious and then it's done.
&nbsp#
Sweetish – The Garden Gnome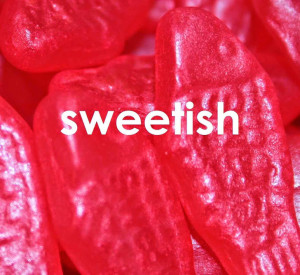 Sweetish are one of my new favorite groups and the also came out of Iron Sketch! In their show for Philly Sketchfest Presents, they did a sketch with Bobby Lang and Erik Sojka where Bobby plays a Garden Gnome in the yard of Erik's parent's house. The slow build where we find out that the gnome is a crazy murderer is awesome and the ear worm of a song he sings is even better. Erik's horrified response makes it one of my favorites as well.
&nbsp#
&nbsp#
&nbsp#
&nbsp#
&nbsp#
&nbsp#
The Flat Earth – An Evening of Soundscapes (Full Show)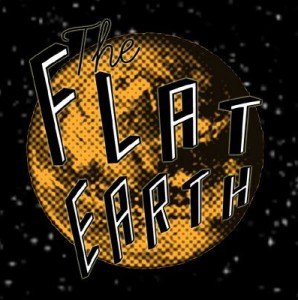 Sean Landis's last show with The Flat Earth found him playing a keyboard set to 'organ' through the entire show… The end featured a nice surprise too. It was a nice touch giving everyone roses at the beginning of the show so as they walked out they could lay them on the keyboard where Sean was sitting still, frozen in time/rigor mortis.
&nbsp#
&nbsp#
If you would like to share your 2015 sketch comedy year in review with Philly Sketchfest and our internet audience, please email [email protected] Your review will be shared here on our website!