We hope everyone had a pleasant Thanksgiving this past weekend. For those of you that also enjoyed The Black Friday Comedy Marathon, we hope you were able to catch up on your sleep. Most especially the hosts of the entire 38 hour marathon Hey, We're Cool, our first featured sketch show of the week. Also this week, Monologues and Brought To You By at PHIT, and The Mean Wendy Band at The Comedy Show Gates.
<&nbsp>
<&nbsp>
Hey, We're Cool – Bring Us Your Show, Or We'll Just Watch ABC's 'Selfie'
Thursday, December 3rd – 8pm / L'etage – 624 S. 6th Street, Philadelphia, PA 19147 / $5 at the door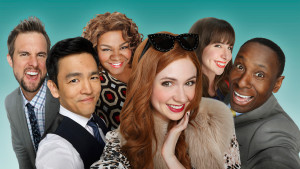 Hey, We're Cool has issued a threat – bring them your comedy bits or their entire show will just be Pat & Matt watching ABC's 'Selfie'. Can you blame them though? If you hosted a marathon of comedy for 38 consecutive hours, you would be completely out of fucks to give. That's where you come in though. Bring your bit, your game show, your guitar comedy that doesn't require a guitar… whatever, it will be appreciated and put up on stage. Because if you don't, and this is a promise, Matt & Pat will watch, as well as critically analyze, ABC's 'Selfie'.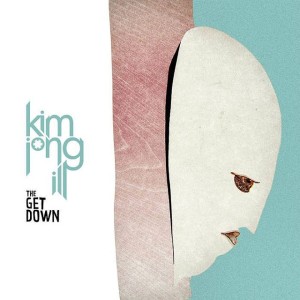 In between episodes of 'Selfie' there will be a live performance from electronic hip-hop music duo, Kim Jong Ill. Comprised of Ron Swerdon and Alvaro Lopez-Moreno, Kim Jong Ill released their latest record, The Get Down this October and they are itching to play you some new tracks off it. Check out, The Get Down on Band Camp now!
Hey, We're Cool is Quinton Alexander, Matt Aukamp, Jacquie Baker, Kev Ketner, Chris McGrail, Pat Reber and Matthew Schmid.
<&nbsp>
<&nbsp>
<&nbsp>
<&nbsp>
<&nbsp>
<&nbsp>
The Comedy Show Gates hosted by Joe Gates
Friday, December 4th – 7pm – 9pm/ L'etage – 624 S. 6th Street, Philadelphia, PA 19147 / $10 at the door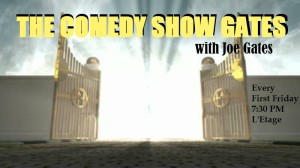 Comedian/director Joe Gates hosts the eponymous The Comedy Show Gates which features a smorgasbord of comedy formats & performers. This month, musical sketch darlings The Mean Wendy Band take it to the 'Gates" with two new songs! Also performing, belly dancer Shushanna, improv troupe Yeti Detective and musical improv masters, Cat & Vegas and The Temple of Boom. Rumor has it, Cat & Vegas and Mean Wendy Band will performing a song together. So if you're into spreading rumors, go spread it and let us know how that goes.
<&nbsp>
<&nbsp>
Monologues at PHIT + Brought To You By…
Friday, December 4th at 9pm / PHIT – 2030 Sansom St. (2nd Floor), Phila, PA 19103 / Tix $10-$12

Filmed sketch offers groups an ability to reach audiences outside their locale while also opening up creative opportunities not available in a live format. However, the ability to receive immediate feedback from an audience is otherwise absent. That's where Brought To You By… fills the gap, premiering new filmed sketches from Philadelphia-area groups in front of a live audience. Hosted & curated by Casey Hogan, Peter Szekeres, and Alex Coffey, the trio also integrate live material in-between videos. This month, two videos from Secret Pants, Andrew Sigwart, and the hosts of "Two Late", Rob Alesiani and Joe Tuzzi.
<&nbsp>
If you're a comedian with an inclination to film and edit your material, email [email protected] to inquire about having your video featured as part of an upcoming show.
After that, it's Monologues hosted & curated by Dru Kramcsak. This month's performers include Andrew Coppola, Whitney Harris, Josef Kardos, Cynthia Marie, Chris McGee, Molly Scullion and host, Dru Kramcsak.
<&nbsp>
<&nbsp>
Know about an upcoming sketch show? Want us to tell people about it? Send your listing to [email protected].