Tonight at 8:30pm, Philly Sketchfest Presents will host sketch from two up-and-coming Philadelphia duos, Jon & Ian Have Something To Tell You and Wretched Hive with stand-up from special guest, Michael S. Watkins. Philly Sketchfest sat down with Jack O'Keeffe and Gabby Thom of Wretched Hive to talk about their duo's origins, their love of 'Star Wars' and what they have planned for their set opening for Jon & Ian Have Something To Tell You…
&nbsp#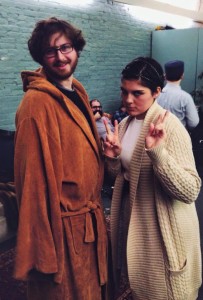 Philly Sketchfest : How did you both meet? Was it a comedically or pre-comedy?
Gabby Thom : We met at an improv show. I came to too many shows and Jack was in the tech booth too often.
Jack O'Keeffe : I told her to go to bars after shows and she did even though she's underage and can't drink. That's what we call networking!
&nbsp#
Philly Sketchfest : What brought you into sketch comedy or comedy in general? When did you realize this was something you wanted to do. Were you previously or are you still involved in any other performance or comedic forms?
Gabby Thom : I always watched sketch growing up, and about a year ago I was going through a pretty bad rough patch and turned to comedy. Shout-out to Matt Schmid for being my first instructor and a huge inspiration to me. It was then I started dabbling in improv as well.
Jack O'Keeffe : I figured out early that if I could make funnier jokes about myself than anyone else in high school, they wouldn't bully me because they couldn't bully me better than I could bully myself. Combined with "Humor as Survival" and my love of Theater and performing and writing sketch comedy just feels like the perfect meshing of everything I want to do.
&nbsp#
Philly Sketchfest : When did you begin working together on Wretched Hive? Did it come out of another project you were working on?
Gabby Thom : I approached Jack about doing a Star Wars themed show and we started working on it together and decided, "Hey this works good. Let's do more."
Jack O'Keeffe : The new movie was coming out and we figured a good way to trick people into seeing our writing was to make it Star Wars themed.
&nbsp#
Philly Sketchfest : Considering your troupe name is 'Wretched Hive' was the plan to make all your material Star Wars influenced or just that first show?
Gabby Thom : That wasn't the plan. We're just two fools who like Star Wars too much.
Jack O'Keeffe : I think we always planned to do that for just the first show.
&nbsp#


Philly Sketchfest : Where did you find your material went or how did it change in the months following opening up for groups like Jon & Ian, Goat Rodeo & Hoagiefist?
Jack O'Keeffe : I think working on sketches that weren't just parodies really made us confront our own comedic voices and what we find funny about the world around us, not just movies we like.
&nbsp#
Philly Sketchfest : As a comedic duo that also writes & performs comedy in a range of other, larger groups, do you feel that duo-writing is a more intimate process or do you write whatever comes out and decide how to make it work later?
Gabby Thom : I kind of think duo-writing is a much easier process because you know exactly who you're casting and what their comedic sensibility is. We just get each other's shit.
Jack O'Keeffe : I feel like with duo-writing, the only person I need to impress aside from myself is my best friend – who will usually hop on my really dumb ideas anyway and we can build each other's ideas up and turn them into these big, explosive bonanzas. It allows us to play with, at, and for each other.
&nbsp#
Philly Sketchfest : What sketch groups local and/or national define or inspire your comedy? Anything in particular comedy, music or otherwise that you're really into right now that we should all get on board with?
Gabby Thom : I love me some Incredible Shrinking Matt & Jacquie, Flat Earth, Barbara Bush, and Jon & Ian Have Something to Tell You. Also Key & Peele makes me laugh. And Jack can back me up on this one – if you haven't heard The 1975's new album, get on board with it.
Jack O'Keeffe : Weird stuff – Stuff that goes in extremely unexpected directions and makes you feel emotions you weren't expecting to feel. The work of Edgar Wright is a massive influence on me for being humourous but also super genuine, as well as the comedy/horror works of Alan Resnick and Neil Cicierega – I'm also super inspired by surrealist theater, so playwrights like Samuel Beckett and Sarah Kane have a way of ending up in my mind whenever I write. I'm also a big fan of all the local acts Gab said, and I'm gonna throw House of Solitude on there as well. Also yeah, that The 1975 album is bonkers good.
Gabby Thom : You ever tried edible taco bowls? It's a fucking delight.
Jack O'Keeffe : Seconded.
&nbsp#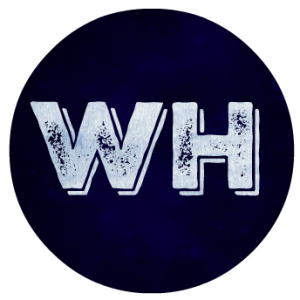 Philly Sketchfest : What was the first Star Wars movie you saw? What brought you into the fold? If there is anything better than Star Wars, what is it? Thoughts on The Force Awakens or rumors that Episode VIII will begin where the last movie left off (i.e. no big spaceship down from the opening crawl).
Gabby Thom : I saw Episode III in theaters with my parents when I was a kid. It was all over from there. I am 97% Star Wars. There is nothing better. Whoever said that is wrong. The Force Awakens was magic and the next one will be equally as magic.
Jack O'Keeffe : I genuinely don't remember a time in my life where Star Wars wasn't a major part of my life.
&nbsp#
Philly Sketchfest : Favorite Star Wars character and why?
Gabby Thom : Han Solo, hands down. He's just a sassy badass and I love him. RIP. Is that a spoiler? If you haven't see the new movie yet, I'm not shielding you any longer. You've had time. I also have a secret thing for Boba Fett, but it's a secret. I don't know why. And now it's not a secret anymore. Whatever.
Jack O'Keeffe : The version of Obi-Wan Kenobi that exists in the alternate universe where the prequels are good. That or Kylo Ren, lame as it is to like that dude.
&nbsp#
Philly Sketchfest : Favorite Star Wars quote and why?
Gabby Thom : "Never tell me the odds." Or "I don't like sand." Depends on my mood.
Jack O'Keeffe : "You will never find a more wretched hive of scum and villainy" – There's a reason it's our name. It's the closest George Lucas gets to sounding like Shakespeare.
&nbsp#
Philly Sketchfest : What can we expect from your upcoming set opening up for Jon & Ian Have Something To Tell You.
Gabby Thom : You can expect our real, full emotions written into some sketches, with a little bit of absurdity tossed in.
Jack O'Keeffe : You can expect a sense of playfulness with the form of sketch comedy and life performance, and a little bit of anger at the world we live in.
&nbsp#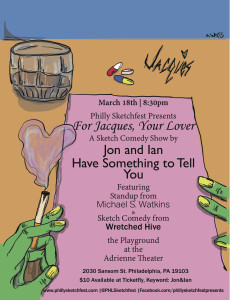 You can see Gab & Jack of Wretched Hive and Jon & Ian Have Something To Tell You perform tonight at 8:30pm at The Adrienne Theater Playground with stand-up from Michael S. Watkins. Tickets are $10 and available online via TicketFly NOW.