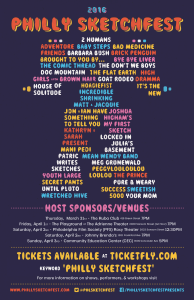 After taking a day to sleep, re-hydrate, sleep and then sleep some more, we'd like to take a moment to offer our sincere gratitude and thanks to all of the performing groups from Philadelphia and across North America that participated in Philly Sketchfest 2016 and our audiences for supporting this festival at the most attended Philly Sketchfest to date! We'd also like to take the time to thank our 2016 Festival Sponsors – Philadelphia Film Society & PFS Roxy Theater, Lehigh Valley Apparel Creations, Federal Donuts, Miss Rachel's Pantry, Ida Mae's Bruncherie, and Uber. Finally, we want to make sure you are specifically aware of those who volunteered and donated their time, efforts or expertise in making Philly Sketchfest 2016 as successful as it was. We're very proud of these people and honored to have them in our corner. Running a sketch comedy festival is simply not something three people do on their own and many people deserve acknowledgement and appreciation for making this festival a success and run as smoothly as possible from night to night. Please join us as we thank them for their tireless efforts…
Jaime Kelly, Katie Karalis, Julie Maher, Nicole Yates, Beth Eisenberg, Rob Alesiani, Chip Chantry, Alex Coffey, Katie Cwirko, Carolyn Beatty, Darryl Charles, Taylor Plunkett-Clements, Dan DalMonte, Nikki Devine at Johnny Brenda's, Chris Dolan, John Evans, Eddie Finn, D.C. Fischer, Rachel Fogletto, Whitney Harris, Meg Heaton, Joshua Higham, Casey Hogan, Rick Horner, Julia Hudson, Paul Impellizzeri at Ruba Club, Scott Maits at CEC, Mike Marbach at Philly Improv Theater, Cynthia-Marie, Greg Maughan at Philly Improv Theater, Brian Mietz, Don Montrey at The Playground at Adrienne Theater, Teresa 'Tnutt' Nutter, Jack O'Keeffe, Pat O'Keeffe, Ojas Patel, Terri Shockley at CEC, Adam Steiger, Peter Szekeres, Hannah Trav, Paul Trigianni, Peter Rambo, Chris Regec at LVAC, Jared Ringrose, Samantha Russell and Chris Ward at Johnny Brenda's.
We simply couldn't have done this without you all. We hope to see you again at next year's festival but until then, please join us for our next Philly Sketchfest Presents show on May 20th at 8:30pm at The Playground at Adrienne Theater featuring headliners, Adventure Friends – Quinton Alexander, Mike Butler and Shannon DeVido! Thanks again!