Yes, you came here to find out what the 'happs' are this week for sketch comedy in Philadelphia. But first, we have to take a moment to acknowledge some Philadelphia sketch groups who've been accepted into and will be performing in some incredible festivals over the next two weeks. Please join us in congratulating The Flat Earth (PHIT) and The Incredible Shrinking Matt & Jacquie on their acceptance into Montreal Sketchfest 2016 as well as it's the new., Kathryn & Sarah, Sweetish, and Until Pluto on their acceptance into this week's Charm City Comedy Festival in Baltimore, MD! If you're from Philly and looking for an over-night adventure built around supporting sketch comedy from your city, you could make the trip to Baltimore in time to see Kathryn & Sarah (10:00pm) and Until Pluto (11:30pm) on Friday night, Sweetish (4:00pm) and it's the new. (7:00pm) on Saturday, and then be back in Philly in time for Mother's Day on Sunday. Or you could stay in Philadelphia and catch all the incredible sketch comedians that are performing this week. Who are they? See below for all the details…
&nbsp#
Up All Night : The Improv to Sketch Cram
Thursday, May 4th at 9:00pm / PHIT – 2030 Sansom St. (2nd Floor), Phila, PA 19103 / Tix $8-$10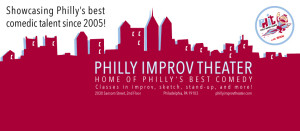 Philly Improv Theater (PHIT) is putting up a sketch show that as of this posting, has yet to be written. We've asked everyone and no one can tell us what to expect, who is involved or if light refreshments will be served. Why? Because it's being done in the 'sketch cram' format of writing the entire show in 24 hours. And because they are the Philly IMPROV Theater, they'll be building the foundation of each sketch through improvised scenes that will then be written into sketches. If you are a comedian taking part in this 24 hour gauntlet, feel free to comment below and let yourself/yourselves be known. Also, it will help us understand if the comment section works. Everyone wins!
&nbsp#
&nbsp#
Monologues at PHIT + Brought To You By…
Friday, May 5th at 9:00pm / PHIT – 2030 Sansom St. (2nd Floor), Phila, PA 19103 / Tix $8-$10


Many of you may remember Brought To You By as the hosts of our 1st Annual Philly Sketchfest Film Festival at The PFS Roxy Theatre. This Friday night, the gang is back at their home base, Philly Improv Theater, with a brand-new show full of new sketch comedy videos! Filmed sketch offers groups an ability to reach audiences outside their locale while also opening up creative opportunities not available in a live format. However, the ability to receive immediate feedback from an audience is otherwise absent. That's where Brought To You By… fills the gap, premiering new filmed sketches from Philadelphia-area groups in front of a live audience. Curated and hosted by Casey Hogan, Peter Szekeres, and Alex Coffey the trio also integrate live material in-between videos featuring comedians, Gina Gennari, Kristofer Hodge, Julia Hudson (Sweetish / Barbara Bush / Dog Mountain), Drew Klemens and Dan McClory. This month, videos from The Incredible Shrinking Matt and Jacquie, Dan Corkery, Andrew Sigwart, High Dramma, and Mani Pedi.
If you're a comedian with an inclination to film and edit your material, email [email protected] to inquire about having your video featured as part of an upcoming show.
After that, it's Monologues hosted & curated by Dru Kramcsak. This month's monologists include Scott Campbell, Brian Guay, Jack O'Keeffe (Wretched Hive), Bob Nelson, Annie Paradis, and as always, your host, Dru Kramcsak (it's the new.).
&nbsp#
Know about an upcoming sketch show? Want us to tell people about it? Send your listing to [email protected].
&nbsp#


And don't forget… TICKETS ARE NOW ON SALE for the May 20th Philly Sketchfest Presents Showcase at The Adrienne Theater Playground!
First at 8:30pm, it's Adventure Friends with Baby Steps hosted by Tim Butterly of Comedy Central's Delco Proper.

Then at 10:15pm, it's the triumphant, one-night only, encore presentation of House of Solitude's, "A Galaxy Uncherished" with special guests One Idiot from the Upright Citizens Brigade Theatre in New York City, performing in their critically acclaimed, lost play from Tennessee Williams, "What The Horse Saw".