Tonight at 8:30pm, Philly Sketchfest Presents will host sketch from High Dramma and from The People's Improv Theater (The PIT) in New York City, New Team Honeybear with stand-up from Los Angeles based comedian, Conner McNutt. Philly Sketchfest sat down with Anthony Jackson of New Team Honeybear, to talk about the duo's origins, sketch comedy in New York City and a few details on their set tonight entitled 'The Butter Show'…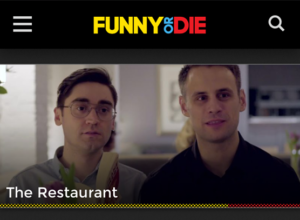 Philly Sketchfest : What brought you into sketch comedy or comedy in general? When did you realize this was something you wanted to do?
Anthony Jackson : I've been on stage since I was like 8 or something. I've always loved performing. I studied musical theater in college, but got into comedy after I moved to New York. I got to a pretty bummed out place about the city in general, then I started taking improv classes at the PIT. All of the sudden I was part of this wacky, smart community. It felt right.
&nbsp#
Philly Sketchfest : How did the two of you come together to form New Team Honeybear (NTHB)?
Anthony Jackson : I was doing longform improv (still am) when Jeff and I started writing together. Sketch really clicked because I got to have so much say in the final product. It's like, wow, this character is perfect for me (I wrote it)! Jeff had been writing sketch for awhile when we met working in the office at the PIT. He was business manager and I was… an intern? The graphics guy? But we essentially just started joking and farting around at work (and on gchat, shhhh! don't tell!) until our boss said something like, you guys should write sketch together.
&nbsp#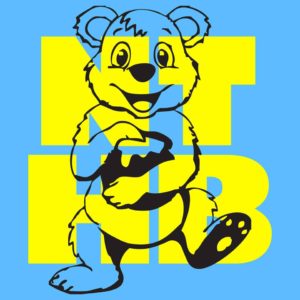 Philly Sketchfest : Who (or what) are your comedic and if any, non-comedic influences? What or who are you currently enjoying, comedy or otherwise?
Anthony Jackson : We both love Musical Theatre, honestly Jeff more than me. So that plays into a lot of our shows. Arrested Development and 30 Rock are my homebases. I love Veep right now and John Oliver. Oh and Lucy Cottrell. You maybe haven't heard of her (YOU WILL!), she's a New York based comedian and she's fucking incredible.
&nbsp#
Philly Sketchfest : What do you find yourself mining for comedy when you write? Are there topics, subjects, or themes that you find you keep coming back to?
Anthony Jackson : Mostly stuff that we find stupid and funny from our own lives. Our writing meetings typically consist of us pulling out the notes section of our phones and me trying to decipher what I meant by what I wrote down at 3am some random morning.
&nbsp#
Philly Sketchfest : NTHB regularly performs at The PIT, which hosts New York City's annual Sketchfest. How supportive has The PIT been to the sketch comedy community in New York? Where do you feel the best sketch comedy is coming out of right now? *We don't mean to put you on the spot with this bank of questions. Just more so interested in your history at The PIT and what you notice the differences are in terms of venues available as outlets for sketch comedy in NYC.*
Anthony Jackson : The PIT is hugely supportive. As a comedy institution, they have a ton of programming come through that's not even comedy first. If you've got a great show, pitch it to the PIT.
&nbsp#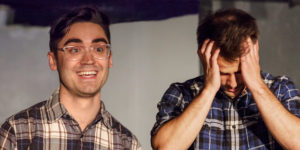 Philly Sketchfest : For those that haven't been to NYC to see your performances, what can Philadelphia expect from your upcoming performance?
Anthony Jackson : We're silly and we're fun and we're theatrical and we're stupid and we take the stupid seriously. The show we're bringing holds a special place for us, come to find out why. There will be painting, audience participation, damsels in distress, dancing.
&nbsp#
Philly Sketchfest : When did you begin working on 'The Butter Show'? Have you noticed any changes in how you're performing the show now in comparison to the beginning? Has anything intentionally been updated as you've performed it over time?
Anthony Jackson : Ooooo this one is awkward. It's a show that is dedicated to all the wonder that is butter. This show is a nice cohesive package. We inevitably change things here or there each time we perform it, but since we wrote it last fall it's stayed pretty much intact.
&nbsp#
Philly Sketchfest : What's next for NTHB or either of you individually as writer/performers?
Anthony Jackson : We're getting online! Check out our website because as we move forward we're uploading more and more video sketches online.
&nbsp#


You can see Anthony & Jeffrey of New Team Honeybear and High Dramma perform tonight at 8:30pm at The Adrienne Theater Playground with stand-up from Conner McNutt. Tickets are $10 and available online via TicketFly NOW.