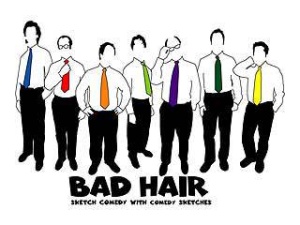 ComedySportz – Philadelphia, PA
Bad Hair was a steady fixture of the burgeoning Philly comedy scene, combining live sketches, video, original music, and (self-described) magic-ocity. They performed regularly at popular Philadelphia venues, The Adrienne Theater, Trocadero, Painted Bride Art Center, Khyber Pass, and World Cafe Live. Also a popular Philly Fringe Festival favorite, they always guaranteed "to blowerate your mindbag"!
Bad Hair was Mike Young, David Dritsas, Kevin Dougherty, Nathan Holt, Don Montrey, Jason Stockdale, Mike Worth and John Zak. Founding member Mike Young, passed away July 18, 2006. Bad Hair performed their farewell show on January 29th, 2009
at Theater N at Nemours.
Philly Sketchfest – 2008
Website – comedysportzphilly.com