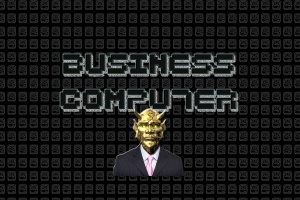 Brooklyn, NY
Business Computer will break your heart and kill you. They're a sketch group interested in the elasticity of what sketch is, determined to also break your comedy bones and reset them in a way that will assault your expectations and behavior towards sketch comedy.
Business Computer strives to be original and challenging, by applying their love of surreal, evocative comedy to the gravitas of live theater. They do this because they have no choice but to, because it is as it has always been, and as it shall be forever more, until the universe expands into entropy, and softly dies, Amen.
Business Computer performs regularly around New York City at venues like The PIT, The UCB, The Creek and the Cave, and more. Business Computer also produces videos regularly, which are released on the information superhighway at their website.
Business Computer is Evan Brandon, Christopher Garner, Daniel Kurland, Dan Ramos, and Kristin Taylor.
Philly Sketchfest – 2014
Website – www.businesscomputercomedy.com/
YouTube – youtube.com/user/BusinessComputer101
Vimeo – vimeo.com/businesscomputer
Facebook – facebook.com/businesscomputercomedy
Twitter – twitter.com/BusinessCompCom