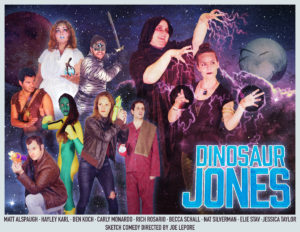 Magnet Theater – New York City, NY
Philly Sketchfest – 2017
A Dinosaur Jones Show is part adventure, part absurdity, and all comedy consisting of weird, sometimes referential, sometimes topical, always life and human relationship inspired sketches; written and performed with reckless abandon and fueled by Oreos™. A Dinosaur Jones Show may even provide answers to life's greatest mysteries. Can a couple work out their adult problems with childhood techniques? Could Simba actually see Mufasa? And, who's a Good Boy?! All will be revealed at the commencement of our illustrious set!
Formed in August 2015, the veteran sketch team brings to life characters & stories that are sometimes weird, sometimes topical, but always human. Sometimes. Work from members of Dinosaur Jones has been featured on Adult Swim, The A.V. Club, Funny or Die, Guyism, IFC, Marvel Comics, Reductress, Jezebel, Cartoon Network, Travel Channel, and Syfy. Members of Dinosaur Jones have performed at Montreal Sketchfest, Chicago Sketchfest, The Boston Comedy Arts Festival, Philly Sketchfest and The New York Sketch Festival.
Dinosaur Jones is Natalie Silverman, Jessica Taylor, Becca Schall, Hayley Karl, Carly Monardo, Rich Rosario, Ben Koch, & Matt Alspaugh, and is directed by "Papa" Joe Lepore.
&nbsp#
2017 Festival Performance Date
Saturday, April 22nd 7:00pm at The Ruba Club with The Decoy and Patric Writes Sketches