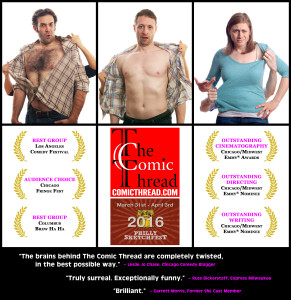 Stage 773/Bitter Jester Creative – Chicago, IL
Philly Sketchfest – 2016
The Comic Thread is proud to be at Philly Sketchfest for the very first time! Hailing from Chicago, The Comic Thread has won BEST GROUP: LA Comedy Fest, AUDIENCE CHOICE: Chicago Fringe Fest, and are EMMY® AWARD WINNERS for their web short "The Engagement Party."
Aptly described as "Surrealistic comedy that bends the edges of logic in any particular direction with enough grace that you truly don't know what's coming next. And you really don't care because there's a 90% chance that it'll be exceptionally funny," (Express Milwaukee) The Comic Thread prides itself on unique characters and regularly ventures into ridiculous territory without a hall pass.
&nbsp#
2016 Festival Performance Dates
Friday, April 1st 8:30pm at The Adrienne Theater Playground with High Dramma and Girls With Brown Hair
Saturday, April 2nd 8:00pm at Johnny Brenda's with Kathryn & Sarah, Pure & Weary and The Incredible Shrinking Matt & Jacquie.
Facebook – facebook.com/ComicThread
Twitter – twitter.com/ComicThread