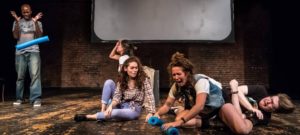 Philly Improv Theater – Philadelphia, PA
Philly Sketchfest – 2017
The Decoy is a house sketch team at the Philly Improv Theater (PHIT). They strive to both write and perform emotionally honest sketches that are relatable and that punch up. Making their debut in August 2016, they burst onto the scene, playing to packed crowds every night of their opening run. They have since written and performed at the 2016 Black Friday Comedy Marathon, as well as two headlining shows at Philly Improv Theater (PHIT).
The Decoy has many diverse influences including older standards like Nichols & May, Monty Python, Dratch & Poehler, and newer influences like Kate McKinnon and Neil Casey. But perhaps none is stronger than "Smooth" by Santana (ft Rob Thomas of Matchbox 20). Their short vignettes make you think, feel, ponder, deliberate, notice, reflect, laugh and – just maybe – learn a little bit about this crazy world of ours.
Praise for The Decoy:
"The Decoy, fire" – standard praise.
"There were so many little moments where the vulnerability of relationships was teased out in great directions, whether they be silly and absurd or introspective and observational. Wonderful stuff!" – praise from a smart fan.
"Overall good stuff" – rare praise from a terse man.
The Decoy is a collaboration of writers and performers, Carolyn Beatty, Chris Berg, Tyler Bonner, Kelly Conrad, Christopher Esperance, Shannon Fahey, Emily Kinslow , Dan McClory, Pat Reber, Annie Paradis, Molly Scullion and Nicole Yates.
&nbsp#
2017 Festival Performance Date
Saturday, April 22nd 7:00pm at The Ruba Club with Dinosaur Jones and Patric Writes Sketches