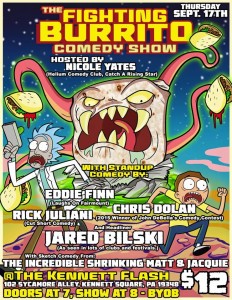 The Fighting Burrito Comedy Show goes on the road to Kennett Flash in Kennet Square, PA, a suburb outside of Philadelphia. Primarily a stand-up showcase, this month's Flying Burrito Comedy Show features a performance from sketch group, The Incredible Shrinking Matt & Jacquie. The show is hosted by Nicole Yates and also features comedians Eddie Finn, Rick Juliani, Chris Dolan, and headliner Jared Bilski!
Thursday, September 16th at Kennett Flash
Doors – 7:00pm / Show – 8:00pm
Tickets : Advance – $10 / Door – $12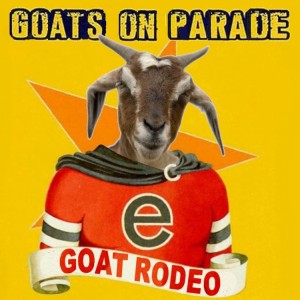 Goat Rodeo wraps up their latest run of "Goats On Parade" with shows this Thursday & Friday. Opening the show, Hoagie Fist – a new sketch trio comprised of Ryan Birchmeier (Best Friends TV Show), Jake Mattera and Steve Swan (Dog Mountain).
Goat Rodeo is Christian Alsis (The Feeko Bros.), Dan Boldin, Dan Corkery (House of Solitude), Bill Flynn, Kristy Goldy (Youth Large), Jimi Haak, Chris McGrail (Hey, We're Cool), Justin Miller, Kevin Pettit, Samantha Russell, Sue Taney, Zachary Uzupis and Aubrie Williams (Mani Pedi). Goat Rodeo is directed by Samantha Russell.
Philly Improv Theater (PHIT), 2030 Sansom Street, 2nd Floor, Philadelphia, PA 19103
9:00pm – Thursday, September 17th / Friday, September 18th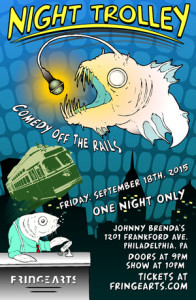 It's the final week of Philly Fringe Festival and the Night Trolley has arrived for a one-night only event at Johnny Brenda's. Night Trolley is an experimental new variety comedy show, featuring performances from sketch group, The Incredible Shrinking Matt & Jacquie as well as sketch writer/performers Matt Aukamp, Kate Banford, Joe Moore, Rose Luardo, Pat Reber and host/conductor Matthew Tsang.
Also performing comedians, Drew Castellano, Alyssa Al-Dookhi, Michael S. Watkins, Eddie Finn, Molly Hanulec, Robert Ecks, Sidney Gantt, Setoiyo Setoiyo, Alex Grubard, Charles Blyzniuk, Joe Bell, Rachel Fogletto, Hannah Trav, Jenna Kuerzi, Aaron Nevins and Phyllis Voren
Friday, September 18th at Johnny Brenda's
Doors – 9:00pm / Show – 10:00pm
Tickets : Students/25 years-old and under – $10 / General Admission – $15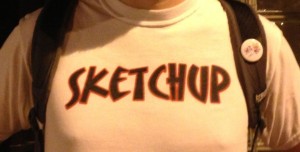 Philadelphia's ONLY Sketch Comedy Open-Mic, Sketch Up or Shut Up, returns to the Philly Improv Theater (PHIT) stage Friday night. Sketch Up or Shut Up was created by Meg Favreau, is hosted by Brian Kelly and is THE place for sketch comedians to work out their new & in-progress material in front of a live audience. Sketch Up or Shut Up is a FREE SHOW and enables sketch comedians of all experience levels try out new material, meet each other and build relationships. Sign-ups begin in the Lobby of the Adrienne Theater at 11:00pm and the show begins on the 2nd Stage at 11:55pm. Not a sketch comedian? That's fine too! Actors are encouraged to attend & volunteer to be in the sketches of writers who either do not wish to perform their own material or do not have a group of people to work with yet. Not a writer or an actor? Wonderful. Audiences are welcomed and encouraged to join us and simply enjoy the show.
Friday, September 18th
Philly Improv Theater (PHIT), 2030 Sansom Street, 2nd Floor, Philadelphia, PA 19103
Sign Ups – 11:00pm / Show – 11:55pm