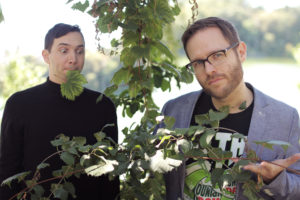 Toronto, Ontario
Cameron Wyllie and Carson Pinch Present… THE VERY BEST OF CAMERON WYLLIE AND CARSON PINCH! Toronto's original Maniacs of Comedy splinter off of their award winning troupe O DAT DUM to bring you an showcase of their comedic visions, their love of stupid mixed with spectacle, and the friendship that binds it all together.
Cameron Wyllie is a Canadian Comedy Award nominated Writer, Director and Comedian. He has performed at Chicago, New York, and Montreal Sketchfests, and has taken a record 6 troupes through the Toronto Sketch Comedy Festival over the last decade. He is a founding member of the multiple award winning sketch comedy collective O DAT DUM.
Carson Pinch is a Toronto-based award-winning comedy writer and performer. Carson has performed all over North America and currently writes and performs a brand new show at Comedy Bar every week with Toronto comedy legacy troupe The Sketchersons (Sunday Night Live), who are now in their 13th year. Carson is also a writer and performer with the multiple award-winning sketch comedy troupe O DAT DUM.
&nbsp#
2017 Festival Performance Date
Saturday, April 22nd, 2017 at 10:00pm at Ruba Club with Pure & Weary and The Flat Earth
facebook
twitter – @cameronwyllie
twitter – @CarsonPinch