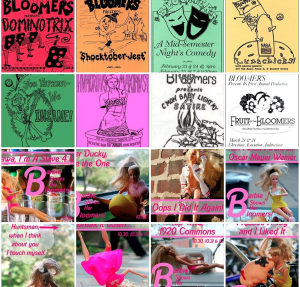 University of Pennsylvania – Philadelphia, PA
Bloomers Comedy is the nation's first and only collegiate all-female musical sketch comedy troupe.
In the late 1970s, a group of Penn women began creating their own comedy sketches in their dorm. Together, they founded Bloomers in 1978, to open the doors to an Ivy League tradition of musical sketch comedy that had been available to men for years.
The heart of Bloomers has long been its completely student-run productions. Currently, Bloomers produce their large-scale shows twice a year in early November and late February. Their shows are composed of completely new material, written by each year's group of Bloomers, and often have an overarching theme.
Bloomers also performs smaller sets throughout the year in floor shows in coffee houses, academic programs, and special campus events. The group has also performed over the years at benefits for organizations and non-profit groups in New York, Miami, and Philadelphia and has been invited to multiple national comedy festivals.
Philly Sketchfest – 2014
Website – http://www.bloomerscomedy.com/
YouTube – youtube.com/user/BloomersComedy
Facebook – facebook.com/BloomersComedy
Twitter – twitter.com/bloomerscomedy