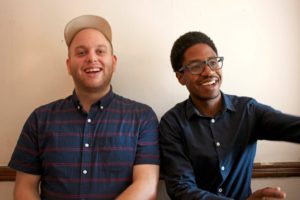 Montreal, Quebec
Philly Sketchfest – 2017
Ladies & Gentlemen (Daniel Carin & Chris Sandiford) are Montreal-based comedians/writers/actors who have performed at various sketch festivals including San Francisco, Toronto, Vancouver, as well as Seattle, where they won the 'Best Visiting Troupe' award and Montreal, where they've won both the 'Best Local Troupe' and the 'Just For Laughs' awards.
They've also been featured at MprovFest, LadyFest, Zoofest, and the Just For Laughs festival, performing both sketch and their long-running stand-up show, 'The Ladies & Gentlemen Comedy Show', which was voted #1 comedy show by newspaper CultMontreal two years in a row.
Performance Date – Thursday, April 20th, 2017 10:00pm at The Playground at Adrienne Theater with Dog Mountain and My First Sketch LIVE – hosted by Josh Higham.
facebook
Twitter – @landgcomedy
Twitter – @ohchris
Twitter – @danielcarin