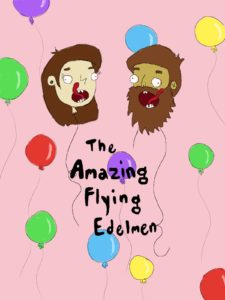 Philadelphia, PA
Philly Sketchfest – 2017
'The Amazing Flying Edelmen' is a Philly-based sketch comedy duo consisting of siblings Jon and Marissa Edelman. A relatively new entry to the Philly comedy scene, the Amazing Flying Edelmen have appeared in Philly Improv Theater's 'The Theme Show', Good Good Comedy's 'The Look', and were finalists in Philly Sketchfest's 'Dirtiest Sketch in Philadelphia 2016'. They recently completed a four-show run of their first half-hour sketch show, 'Human Cartoons'.
&nbsp#
2017 Festival Performance Date
Thursday, April 20th 7:00pm at The Playground at Adrienne Theater with Locked In Julia's Basement and Its The New.
Facebook – facebook.com/amazingflyingedelmen