Tomorrow night, New York City sketch comedians, Trout House will be performing in Philadelphia with stand-up, Eddie Finn and sketch peers, Sweetish for Philly Sketchfest Presents at the Playground of the Adrienne Theater at 8:30pm. While we've been busy prepping for the show, Jolie Darrow of Barbara Bush reached out to Eric Feurer of Trout House for an interview "sesh" so you could be up to date on all things Trout House before the show…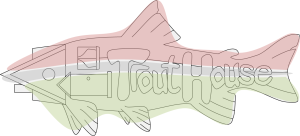 Jolie Darrow (JD) – Nice to meet you, Eric and thanks for taking the time. When and how did Trout House get their start? What are the backgrounds of your members?
Eric Feurer (EF) – We are all UCB trained improvisers, but we all had sketch and character ideas floating around. After three of us moved in together (on Troutman Street!), we started combining ideas and we used the UCB weekly B.Y.O.T. (Bring Your Own Team) open mic show to test material. We've been performing in indie shows and festivals around NYC for about six months now.
JD – Is there a style or sketch form that is essential to the group? Does an idea have to make you all giggle? What can the audience expect to see at Friday's show?
EF – Much like our individual members, our sketches are a healthy mix of smart & stupid. A clever pun is just a good as a well-placed fart. We want to cater to a lot of different comedic styles with tight premises and heavy 'game' play, but we love using that as a base to sprinkle in physical gags & awkward silences. And props. Too many props. On Friday you'll see magic, Shakespeare, underwear, an orchestra, cigarettes, rabbits, health inspectors, blood, a fan, and the Ice King & Queen of Minnesota's own 'Kandiyohe Formal'. Not in that order.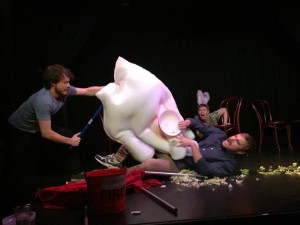 JD – Yes, the word on the street is that Trout House is big on the use of props and big set pieces. So is, Sweetish, the group you're performing with. What is it about the use of props that appeals to your comedic sensibilities? Have you ever written something around a specific prop or set? Do you make your own props and if so, what goes into that process?
EF – I think the ridiculous costumes of SNL in the 90's is a heavy influence. If it's even remotely possible for us to take something imaginary and make it a reality on stage, we will (for better or for worse) give it a shot. Several of our sketches were built around the props, so much so that they likely wouldn't work without them. I was in 'Michaels' one day and saw a three foot tall champagne glass and it spoke to me. So I ended up writing a character that was 'Jack and the Beanstalk's' best man if Jack had married a giant, and it was totally inspired by the prop glass. We make 95% of the props we use. We have a spare bedroom in our apartment that is slowly being filled with random objects. I give it two years before we're on 'Hoarders'. All of our large costume pieces are made with mattress padding and a lot of beer.
JD – I heard your live shows tend to be a bit messy and the stage ends up like a child's room who doesn't clean up after their toys. Is that part of the comedy or is there another specific reason behind that aspect of your live performances?
EF – It started out of necessity. We didn't want to disrupt the flow of the show by removing props, and even if we wanted to we didn't have the time. Now we think it's funny. By the end of our sets we are tripping over instruments and piles of clothes and it reminds us to not take anything too seriously! It also creates a really fun stage picture at the end that I think the audience appreciates. Something can be said for helping to maintain a suspension of disbelief, but I don't think our sketches benefit from that.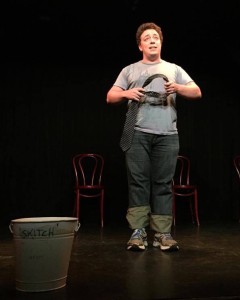 JD – Can you speak a little about performing sketch comedy in New York City? What's the live sketch scene like?
EF – There's something humbling about wrestling seven foot tall costume and prop pieces onto a crowded subway. We don't make a lot of friends that way. Live sketch is pretty amazing up here. Every big theater has several house teams, and they are constantly pumping out incredible work! It makes indie teams like us want to work that much harder. Gems like B.Y.O.T. are so supportive, and the comedy community up here is full of really smart, talented people..
You can see Eric with his group Trout House as well as Eddie Finn & Sweetish, Friday night, November 20th at The Playground of the Adrienne Theater! Tickets are $10 and available online via TicketFly, Keyword – Sweetish.