Before we get started with this week's shows, Philly Sketchfest would like to congratulate The Flat Earth & Spirit Animal on their acceptance into the 2016 Chicago Sketch Comedy Festival. Please join us in wishing these two groups all the best when they represent Philly this coming January. And there's more to celebrate because it's show week for us here at Philly Sketchfest Presents and we've got two big events planned for you on Friday, November 20th at The Playground of the Adrienne Theater. First, it's Sweetish, Trout House and stand-up comedian Eddie Finn at 8:30pm and then at 10:00pm it's our annual, Dirtiest Sketch in Philadelphia with special guest judges, FUCT from New York City. More details on our Friday shows as well as all of the sketch comedy Philadelphia has to offer this week below.>
<&nbsp>
Temple SMASH – Episode #702
Temple University's Studio 1 at Annenberg Hall
Thursday, November 19th Doors at 8:00pm / Show at 8:30pm – FREE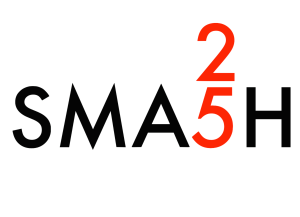 Temple University has a sketch comedy group and they are Temple SMASH. On Thursday, they are putting up their most recent live show at Studio 1 at Annenberg Hall and it's FREE. So dip into your piggy-bank, get some subway fare together and hop on the Broad Street line to Temple University. Temple SMASH is written by head writers, Ian Fletcher & Cole Johnston along with Jake Mattern, Jon Plester, Tyler Reppert, Jess Smith, Ross Weisman and Keira Wingert. They are directed by Marshall Hoskins.
<&nbsp>
<&nbsp>
The Flat Earth presents "Sorry For Your Loss" with special musical guests, Kathryn Amrhein & Sarah Clemency
PHIT – 2030 Sansom St. (2nd Floor), Phila, PA 19103
Thursday, November 19th at 9pm Tickets – $10/$12 and Friday, November 20th at 9pm Tickets – $10/$12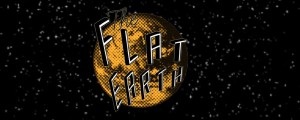 As you may have read as recently as above, it's official; The Flat Earth have been accepted into the 2016 Chicago Sketch Comedy Festival for the second year in a row. In fact, it's already been quite a year for The Flat Earth. They began 2015 with performances at three of the largest North American sketch comedy festivals; Chicago, San Francisco and Toronto. After an incredible gauntlet of travel, performances and group bonding they returned to Philly at the end of March and put up a show of brand new material, mostly prepared from their time on the road. But it's not just their drive and passion that makes The Flat Earth an incredible sketch group. Join them for their final performance in 2015 and find out what all the fuss is about. The Flat Earth is Jacquie Baker, Vincent DiCostanzo, Rich Lee, Matthew Schmid, Molly Silverman and Adam Siry. They are directed by Paul Triggiani (Secret Pants / Alley of Nightmares)
Opening the final week of Flat Earth's recent run, the debut of musical sketch comedy duo, Kathryn Amrhein (Barbara Bush) & Sarah Clemency.
<&nbsp>
Philly Sketchfest Presents – Sweetish, Trout House (NYC) and stand-up comedian, Eddie Finn
The Playground at the Adrienne Theater – 2030 Sansom St. (1st Floor immediately on your left), Phila, PA 19103
Friday, November 20th at 8:30pm / Tickets – $10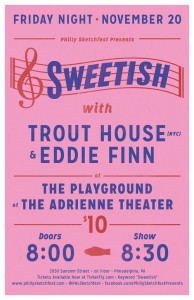 Sweetish is a sketch group founded by entropy or less ambiguously via the sketch comedy game show, Iron Sketch at Philly Improv Theater. Sweetish's comedy is influenced by pop culture and a love of practical effects. They combine innocence, dark humor, word-play and elaborate set pieces into a one-of-a-kind comedic experience. All sketches are written & performed by group members, Brian Craig, Julia Hudson, Bobby Lang, Maura Pennington, and Erik Sojka. Sweetish is directed by Brian Craig.
Trout House is a New York City/Brooklyn based sketch group that recently performed as part of the 2015 NYC Sketchfest at The PIT. The group self-proclaims they are known for their big props, big characters and little penises but that's not all. They're also flawless in their execution of high concept sketches, with total commitment to their performance creating an essential immediacy to their comedy. Both a name and a play on words, Trout House is Hank Browning, Eric Feurer, Gregory Lotsvin and Steph Shober.
Hosting and opening the show, stand-up comedian Eddie Finn. Eddie is one of the faces behind the stand-up collective, Laughs on Philly. Soon, he'll also be launching a comedy night at Ortlieb's in Northern Liberties. Make sure go to twitter immediately after reading this and follow Eddie Finn – @eddiejfinn
<&nbsp>
Philly Sketchfest Presents – The Dirtiest Sketch in Philadelphia with special guest judges, FUCTNYC
The Playground at the Adrienne Theater – 2030 Sansom St. (1st Floor immediately on your left), Phila, PA 19103
Friday, November 20th at 10:00pm / Tickets – $10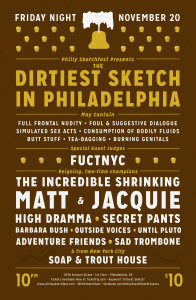 Philly Sketchfest's annual sketch revue/competition returns to the stage and by the end of the show, many questions will be answered. For example, will reigning two-time champions, The Incredible Shrinking Matt & Jacquie be the first group to win three times in a row? Will a live performance from FUCTNYC scar the audience for life with their uniquely derelict brand of comedy? Will we ever be allowed to put up a show again after 11 sketch comedy groups perform their interpretation of the most disgusting, gross-out, dirtiest comedy? All those answers and more with performances from former dirtiest sketch champions High Dramma and Secret Pants as well as Adventure Friends, Barbara Bush, Outside Voices, Sad Trombone, Until Pluto, and from New York City, SOAP and Trout House.
<&nbsp>
<&nbsp>
<&nbsp>
<&nbsp>
Sketch Up or Shut Up
Philly Improv Theater – 2030 Sansom Street (2nd Floor)
Friday, November 20th – Sign ups at 11:00pm / Show at 11:55pm FREE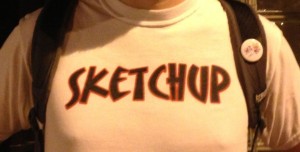 Philadelphia's ONLY Sketch Comedy Open-Mic, Sketch Up or Shut Up, returns to the Philly Improv Theater (PHIT) stage Friday night. Sketch Up or Shut Up was created by Meg Favreau, is hosted by Brian Kelly and is THE place for sketch comedians to work out their new & in-progress material in front of a live audience. Sketch Up or Shut Up is a FREE SHOW and enables sketch comedians of all experience levels try out new material, meet each other and build relationships. Sign-ups begin in the Lobby of the Adrienne Theater at 11:00pm and the show begins on the 2nd Stage at 11:55pm. Not a sketch comedian? That's fine too! Actors are encouraged to attend & volunteer to be in the sketches of writers who either do not wish to perform their own material or do not have a group of people to work with yet. Not a writer or an actor? Wonderful. Audiences are welcomed and encouraged to join us and simply enjoy the show.
<&nbsp>
Know about an upcoming sketch show? Want us to tell people about it? Send your listing to [email protected].