Now that we're are all caught up from Philly Sketchfest 2016 we're ready to return to this website back to some regularly scheduled content highlighting all the sketch comedy taking place in Philadelphia on a weekly basis. We're also excited to announce here that we'll be posting more articles and interviews with Philadelphia-based sketch groups as well as becoming the official home of the "My First Sketch" podcast hosted/created by Josh Higham. That's good news. Some might say great, but we like to think of it as leaving ourselves room to grow. So what's happening this week already, right? Well word on the street is that you have a hot date with sketch comedy on Monday, Tuesday, Thursday & Friday. Check out the events below to see exactly who'll be taking you out on the town each night…
Rage On – Laurel House Benefit Show
Philly Improv Theater – 2030 Sansom Street (2nd Floor), Philadelphia, PA 19103
Monday, April 18th – 7:00pm to 9:00pm / Tickets – PAY WHAT YOU WILL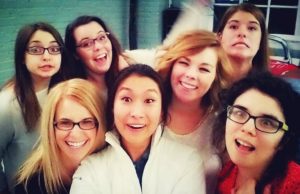 Rage On is an event created and supported by women's rights advocates of all genders, all ages, all races, all ethnicities, all sexualities, and all comedy genres. In short, this is an event built around love and support for each other in our local comedy community. What's more though is that this evening of laughter is a pay-what-you-wish event with all proceeds benefiting the Laurel House Domestic Violence Agency. And what a gathering of community it will be with sketch comedy from local dork-tart Brian Kelly (Secret Pants) and a slew of other comedic forms from Aretha's Hat, Joe Bell, Den Mother, Rachel Fogletto, The N-Crowd, Hannah Trav, Michael S. Watkins, Wussy Riot, and Nicole Yates. Food will be donated by Kermit's and alcohol will be donated by yourselves aka BYOB.
&nbsp#
&nbsp#
Kayleigh and Pete's Free Improv & Sketch at Grape Room
The Grape Room – 105 Grape St, Philadelphia, PA 19127
Tuesday, April 19th at 8:00pm / Tix – FREE (21+ Show)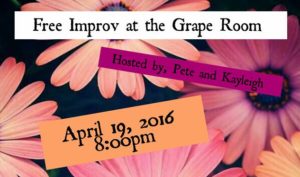 The Grape Room is expanding their free improv show to include sketch this month. Join hosts Kayleigh Leggitt & Pete Gerbron as they welcome sketch acts its the new. and Patric Writes Sketches into the fold with performances from The Random Tangents, Suggestical, Time Bandits, Sad Trombone, and Warm Town.
&nbsp#
&nbsp#
&nbsp#
&nbsp#
&nbsp#
Barbara Bush presents, "Tell Me A Secret" with special guests, House of Solitude
Philly Improv Theater – 2030 Sansom Street (2nd Floor), Philadelphia, PA 19103
Tix – $10 Advance & $12 Door
Friday, April 22nd – 9pm / Tix – $10 Advance & $12 Door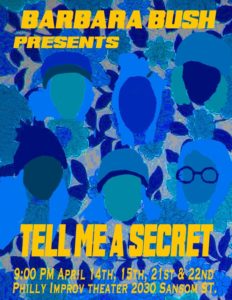 If you are looking for a double-bill of sketch that is sure to deliver the most laughs for your cash* (US Census – Per Capita Chuckles divided by Net Resident Average Guffaws multiplied by Gross National Giggles), then may we please suggest getting yourself a ticket to this show. Barbara Bush and House of Solitude will be performing brand new material sprinkled with a few tride-and-true classics for an hour of secret-filled comedy.
House of Solitude is the sketch comedy duo of Caitlin Weigel and Daniel Corkery. Barbara Bush's 'Tell Me A Secret' is written & performed by Jolie Darrow, Julia Hudson, Sue Nelson, Courtney Painter, Shawna Stoltzfoos, and Nicole Zeits and is directed by Jacquie Baker (The Incredible Shrinking Matt & Jacquie / The Flat Earth).
&nbsp#
&nbsp#
&nbsp#
&nbsp#
&nbsp#
&nbsp#
The Dungeon Comedy Night presents – That Bowie Jawn
Friday, April 22nd Doors 7:30pm and Show at 8:00pm / Tix – $5 (cash at door)


The passing of David Bowie resulted in, amongst many things, an opportunity to reflect on the influence of everything that came in his wake and the inspiration he provided in making art of our own. The 90s Alt-rock Parody/Cover Band The Flannel Chucks will be ditching their flannel for glam when they perform the music of David Bowie with help from Philadelphia comedians who will transform, embody and sing as various Bowie personas such as Ziggy Stardust, The Thin White Duke and whatever they called him during the New Romantic movement. Performers Bowie-ing up with the Flannel Chucks include Rob Alesiani, Alyssa Al-Dookhi, Wendy Lenhart (Mean Wendy Band) Lizzie Spellman, Sean Sullivan, and Paul Triggiani (Secret Pants). The show will also feature improv from Hulafish, The Sardines, Seven Pounds of Shame, Brioni and stand-up from Teresa 'TNutt' Nutter.
&nbsp#
Know about an upcoming sketch show? Want us to tell people about it? Send your listing to [email protected].