Tonight at 8:30pm, Philadelphia sketch comedy group, Sweetish takes the stage at Philly Sketchfest Presents monthly showcase along with New York City sketch comedians, Trout House and stand-up comedian, Eddie Finn. Earlier this week, Jolie Darrow of Barbara Bush spoke with Brian, Julia, Bobby, Maura and Erik of Sweetish about their unique and random formation, their love of practical effects, and their future…
<&nbsp>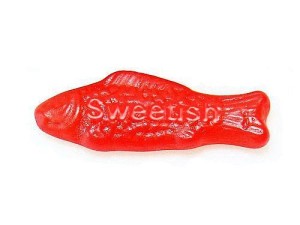 Jolie Darrow – Sweetish got their start as part of the sketch comedy game show, Iron Sketch which randomly pairs sketch writer/performers together and gives them 30 days to put together 10 minutes of sketch based around a prop, or rather, "Battle Prop". Do you remember the prop of that first Iron Sketch?
Brian Craig – Our first show was "BATTLE TABLE", and we all felt real clever for writing a sketch that ends with the line, "That's not the bedside table, that's the table of contents!". I'm not even mentioning that sarcastically; I still love that dumb punchline.
Jolie Darrow – How would you define the group? What is it about the group that meshed, or continues to mesh so well?
Brian Craig – That's a wide open question. I'll give you an extremely narrow answer and let you infer what you will: Bobby, Erik, and Maura were all raised Catholic, while Julia and myself were raised Protestant. Sweetish is the center of some weird Venn diagram.
Julia Hudson – We're just a bunch of Dumb dumbs!
Bobby Lang – Sweetish seems to be in a continuous state of evolution. It's tough to nail down a specific type of writing we do, however, we always try to make whatever it is look awesome or show how dumb the serious stuff is.
Erik Sokja – The camaraderie that rose from the shared goal of competing in Iron Sketch last year carried over into our post-Iron-Sketch lives. We've gotten to know each other so well over the last 18 months that we trust each other when someone suggests something new or silly or outrageous.
Maura Pennington – We're a small group but I think that's given us a chance to get to know each other's senses of humors and to become better writers for each other. I can't be part of the performance aspect anymore, but there's so much more that our group does behind the scenes to prepare that it still feels like I'm right there with them.
Jolie Darrow – Speaking of that Maura, you recently moved to California for school. Now that you're across the country, what is your involvement in the group's writing and production process? Did you play a big role in the upcoming show?
Maura Pennington – I used to joke when we would get close to a performance and would remind each other to invite people out to see us that Sweetish were "my people." I didn't really know anyone else in Philly very well. Sweetish was my family there. I don't think giving them up was ever an option. I've been able to Skype in and we also keep a conversation going through e-mail or Facebook where we toss around premises. I find that I wake up on Saturday mornings with sketch ideas and wrote three for this upcoming show, not all of which made the cut. I also shot some video, which got passed back east for editing.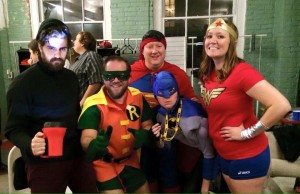 Jolie Darrow – Eric, I've been told you are the master of props; tell me why it interests you to include elaborate props in the show?
Erik Sokja – I wouldn't say I'm the master of props, but we do like to inject some realism into our sketches. Most of us have a theatre background, so it seems natural to have something real to act against. A coffee mug filled with actual liquid makes the actor's arm movements seem more weighted compared to an empty mug. And of course, when you need a talking sandwich or an Aliens mechanical loader, the more authentic, the better!
Jolie Darrow – Well I've also been told you're the master of puns. EXPLAIN. What makes a pun 'punderful' in your opinion? Why are you the alleged master?
Erik Sokja – I do loves me some puns. One of our early rejected group names was going to be, "Punfetti". Again, I wouldn't say we're the masters of them, but they're one of the tools in our toolbelt. We try to vary the types of comedy we include, so when we have an entire sketch with puns as the only jokes, that stands out.
Julia Hudson – We're growing up and trying new things so there isn't too much word play in this show (RIP Punfetti), but we found new ways to challenge ourselves this time, while still holding on to our puppets and props and all the silliness that makes it possible for us to play in the dark.
Jolie Darrow – Without giving too much away, what is this upcoming Philly Sketchfest Presents show about? Does it have a title? Are there any overarching themes?
Brian Craig – We ended up reorganizing our whole set last week and saving some stuff until next show, and our original title and intro video went with it. Now, we've settled on the title "Friends?", and we're hitting on some well-worn Sweetish themes of "fear", "religion", "loneliness", "semi-dysfunctional family dynamics", and "isolation".
Bobby Lang – Friendship and lack thereof. And death, per usual.
Brian Craig – You know, real knee-slappers. We enjoy burying dark, introspective material beneath a veneer of silliness that often involves puns and puppetry and big, dumb characters, and this show will be no exception.
Jolie Darrow – Bobby, you're a man of few words. How involved are you in the show vs just being a pretty face for the group?
Bobby Lang – Quite frankly this is offensive and I am insulted. I will not dignify this question with an answer.
Jolie Darrow – Brian and Julia, how would you compare being in Sweetish to your other sketch groups, Secret Pants and Barbara Bush respectively?
Julia Hudson – I don't even know where to start with this one. They operate so differently and bring very different things to the table. In the end though, both teams are obsessed with putting on the best show possible and work tirelessly to make that happen. I think for me, in my head at least, Barbara Bush loves to strip a sketch down so it's as simple to perform as possible, while not losing the whimsy and despair we love so much. Meanwhile, Sweetish indulges in puppets, big props, and set pieces. The sillier and stupider, the better!
Brian Craig – The biggest thing I've brought with me from Secret Pants is definitely the ethos of always trying to push the bar for ourselves. We're only ever as good as the last thing we did, and if we went big with that last thing, you damn well better believe we're going bigger, or clever-er, or having more elaborate props this time around. I never want to be satisfied with "good enough". And let me tell you, that's an exhausting level to maintain, creatively.
Julia Hudson – One thing that should be noted, is that I often write a sketch thinking it's for one team and then finish it up and realize maybe it's for the other instead. I definitely get confused sometimes. For the last Barbara Bush show I wrote a sketch and was told while we were editing it "I knew this was your sketch. It was Sweetish as FUCK!"
Brian Craig – Oh, and always knowing whether or not your character is married, and wearing your wedding ring accordingly. It's such a simple thing. As frequent sketch audience members, that's something we can't stop ourselves from noticing. Secret Pants is nothing if not detail-oriented, and so is Sweetish because I don't know how to turn that switch off.
Jolie Darrow – Brian, as their mentor for Iron Sketch and their director, can you talk about the growth of the group as writers and performers over time? Do you still play more of a mentor/director role or are you more hands off now that you are more of an established team?
Brian Craig – From the very earliest days, I've eschewed the term "mentor". I've always insisted I'm just 1/5th of Sweetish, an equal partner. The group has only gotten equal-er. The thing that has grown the most with these incredible people, both as writers and as performers, has been their confidence. The key to sketch comedy (or any comedy, really, and most other things, too) is having a combination of talent, instinct, and confidence. Luckily for me, they've all got the talent and the instinct, which you can't really teach. The confidence comes from experience. I kind of lent them my experience at the beginning, and it has been rewarding to see them really step out of their shells and command a stage.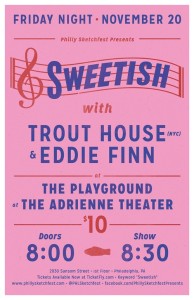 Jolie Darrow – Anything else you would like to say about the team/show/world/Philly/etc.?
Julia Hudson – Come for Sweetish, stay for Maura.
Brian Craig – This is an exciting, transitional time in Philly sketch comedy. A lot of established sketch people have recently left for the west coast or New York, or have semi-retired, or shifted their focus to directing, while at the same time a whole swath of new writers and performers have started arriving on the scene. It'll be interesting to watch it all shake out, and to see the weirdos start to find each other and form friendships and creative partnerships. It's important to find your own band of misfits. When you find your people, that's when the good material starts forming, and I look forward to seeing the creative output on stage.
You can see everyone in Sweetish along with Trout House & Eddie Finn, Friday night, November 20th at The Playground of the Adrienne Theater! Tickets are $10 and available online via TicketFly, Keyword – Sweetish.