This week marks both the end of 2015 and the beginning of 2016. With that in mind we've decided to celebrate both the old and new with two shows on New Year's Day, Friday, January 1st as part of our Philly Sketchfest Presents January showcase. First at 8:00pm, it's the American Breakfast Reunion Show with special guests, Your Mom. Then at 9:30pm it's Sketch Hangover, an outright cavalcade of Philadelphia sketch groups as 17 troupes perform their first sketches of the year to kick off 2016. While these are the only two sketch shows in town this week, a rumor we're starting right here has it that there will be an announcement of substantially sized proportions happening right here at www.phillysketchfest.com regarding the dates of March 31st through April 3rd. Until then, join us Friday night and BYOB for the following sketch shows…
&nbsp#
Philly Sketchfest Presents : The American Breakfast Reunion Show with special guests, Your Mom
The Playground at Adrienne Theater – 2030 Sansom Street (1st Floor on left), Philadelphia, PA 19103
Friday, January 1st – Doors at 7:30pm and Show at 8:00pm / Tickets – $10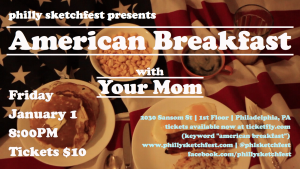 What is school? Is it, Sean Landis, Peter Rambo, Eric Steele and Nora Assumedname? NO!!!!! That's American Breakfast, silly and they're reuniting for one-night only. That's right, American Breakfast is back performing old favorites and quite possibly, some brand new material. While the group never officially disbanded, each of their members began concentrating on different projects – Sean Landis with The Flat Earth and now Good Good Comedy's Frog Night. Peter Rambo with Cheat Code, Hey, We're Cool and production coordinating at Philly Improv Theater before moving to Wisconsin. Nora took to the internet and concentrated on comedy via twitter with her account @nornalynn. And finally, Eric Steele took a hiatus from all things comedy to focus on all things tech, concentrating on his Rails application projects and as a speaker including this year's Ignite Philly conference. During their tenure, American Breakfast was nominated for 'Best New Act' at the 2012 Philadelphia Comedy Awards (née – WitOut Awards) and regularly performed at Philly Improv Theater, Mani-Party, Accidents Will Happen, and the sketch comedy revues, Camp Woods Plus/Now Time at L'etage. What have these new experiences wrought for the group? The answer awaits you this Friday night at 8:00pm.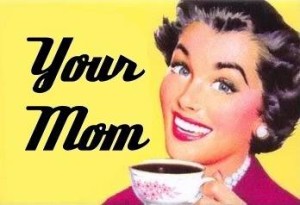 Opening the show, the always exciting sketch group from West Grove, PA, Your Mom. Created by Tyler & Daphne Bonner, Your Mom was accepted into and performed at this year's NYC Sketchfest 2015 at The People's Improv Theater (PIT). They have also headlined both the 2014 and 2015 Black Friday Comedy Marathon.
&nbsp#
&nbsp#
&nbsp#
&nbsp#
Philly Sketchfest Presents : Sketch Hangover – The First Sketches of 2016
The Playground at Adrienne Theater – 2030 Sansom Street (1st Floor on left), Philadelphia, PA 19103
Friday, January 1st – Doors at 9:15pm and Show at 9:30pm / Tickets – $10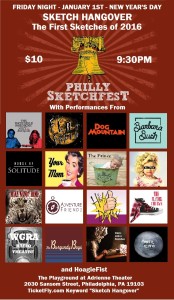 Of course you have plans for New Year's Eve. And fine, we understand that on the morning of New Year's Day, you need to nurse your NYE hangover or see the Mummer's Parade (or nurse your hangover AT the Mummer's Parade). But what about the evening of New Year's Day? Philly Sketch Presents has your plans covered with a celebration of Philadelphia-based sketch comedy as 17 sketch groups perform their first sketches of 2016! For the low cost of $10 you'll see the first sketches in 2016 from Adventure Friends, Barbara Bush, Dog Mountain, High Dramma, HoagieFist, House of Solitude, ManiPedi, Mean Wendy Band, Patric Writes Sketches, The Burgundy Boys, The Flannel Chucks, The Flat Earth, The Incredible Shrinking Matt & Jacquie, The Prince, Until Pluto, WGRA Radio Theatre, Your Mom and most likely, a few surprises that even we aren't aware of yet. Why not? It's the new year, let's act like it!
&nbsp#
&nbsp#
&nbsp#
Know about an upcoming sketch show? Want us to tell people about it? Send your listing to [email protected].