While some of you might be lamenting that it's already December, there is still a ton of sketch comedy to be had before the New Year (and our Sketch Hangover show on January 1st at 10pm). This week, it's the return of Daring Daulton, The Prince and an anthology of sketches inspired by Start Wars from new duo, Wretched Hive (Jack O'Keeffe and Gab Thom).
Daring Daulton in "Moonscape" with special guests, The Prince. Presented by Good Good Comedy
Vox Populi – 319 N. 11th Street, Philadelphia, PA 19107
Thursday, December 10th at 8:00pm and Friday, December 11th at 8:00pm
Tix – $5 (reservations available)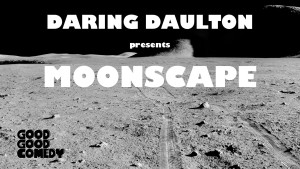 What is a 'moonscape'? We assume it's like a landscape but on the moon. If we know anything about Daring Daulton's Trevor Miles and Joe Paolucci, we will also assume that they will pronounce the word 'moonscape' in the most hilarious ways possible. That's the beauty of Daring Daulton. Even when they're not delivering a joke-line, they're still working the room for laughter in their performance. 'Moonscape' also promises to be a set full of brand new material which is doubly-exciting for sketch fans in Philadelphia.
Joining Daring Daulton for both nights, Philadelphia sketch duo, The Prince. The Prince are comprised of Frank Farrell (Triple Double) and Jamie Glasheen (The N Crowd). Utilizing their individual improvisation backgrounds, The Prince have taken sketch comedy to new and interesting places in Philadelphia. Whether they're alternating roles of their characters between performances or setting multiple sketches within a single scene, Frank and Jamie continuously amaze in both their consistency and their comedy.
<&nbsp>
<&nbsp>
One Night In Alderaan – A Star Wars Inspired Sketch Anthology from Wretched Hive
Philly Improv Theater – 2030 Sansom Street, 2nd Floor Philadelphia, PA 19148
Thursday, December 10th at 9:00pm and Friday, December 11th at 9:00pm
Thursday & Friday Tix – $8 advance / $10 at door


With the highly anticipated Star Wars – The Force Awakens coming out next week, Philly Improv Theater is celebrating all things Star Wars with this week's featured sketch show from the new sketch duo Wretched Hive entitled, "One Night in Alderaan". Wretched Hive is the sketch duo of Jack O'Keeffe and Gab Thom and it would be an understatement to say they are more than just fans of all things Star Wars. Sharing their enjoyement and fanaticism, they've also brought on board Star Wars inspired sketches written by Mallory Rhodes and Pat O'Keeffe. Both nights include performances from Rob Alesiani, Scott Campbell, Katie Cwirko, Pim Van HuYkelom, Brian Kelly, Jack O'Keeffe, Pat O'Keeffe, Kevin Ruth and Gab Thom. You're all jonesing for Star Wars and here's a chance to get some of it out of your system before the big release next week.
<&nbsp>
Know of a sketch show? Are we missing a sketch show? Send us your listing to [email protected] and it will go up.