This is a reminder that you have until January 31st to apply to Philly Sketchfest 2016! If you'd like to sign up please click on this link and get to submitting your incredible sketch group! Then check out all the sketch in Philadelphia for this week…
&nbsp#
WGRA Radio Theatre presents 'Motive : Murder'
Presented by Good Good Comedy at Plays & Players Theater – 1714 Delancy Street, Philadelphia, PA 19103
Thursday, January 28th at 8:30pm
Tix – $5 (reservations available)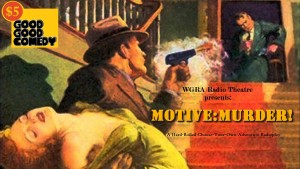 WGRA Radio Theatre returns with its second full-length production (and first fully original script), 'Motive : Murder – Hard-Boiled Choose-Your-Own-Adventure Detective Story' where detective Jon Hawks finds himself in the deep end of dames, danger and a little bit of Philly history for good measure. All WGRA Radio Theatre presentations are presented as a live, vintage radio broadcast, with all sound effects, music and performances done in real time. You can download WGRA Radio Theatre's first show, the sold-out one-night-only production of "Plan Nine from Outer Space" on their our website – wgraradiotheatre.wordpress.com. Featuring performances from, Quinton Alexander, Julia Celley, Dan Corkery, Brian Craig, Matt Holmes, Julia Hudson, Patrick Reber and LIVE music by the Philadelphia Ukulele Orchestra. WGRA Radio Theatre is created and hosted by Vincent P. DiCostanzo.
&nbsp#
Dog Mountain presents 'Small Talk' with special guests, The Burgundy Boys
Philly Improv Theater – 2030 Sansom Street (2nd Floor), Philadelphia, PA 19103
Thursday, January 28th – 9pm / Tix – $8 Advance & $10 Door
Friday, January 29th – 9pm / Tix – $8 Advance & $10 Door


Dog Mountain returns to the Philly Improv Theater (PHIT) this week with their brand new set of sketch entitled, 'Small Talk'. When asked about what to expect from their new show, Dog Mountain's head writer, Joe Moore shared, "This show has more characters than we've ever done. A lot of sketch comedy is weirdos doing strange stuff, but we've soared to new heights of strangeness this time around… There are 3 sketches in particular that I think are the weirdest funniest ones we've done yet." It should be noted that this is coming from the same group that taught us how to dance like no one is watching to TJ Maxx's in-store music so the bar is already pretty high for strange. Dog Mountain is Carl Boccuti (director), Jim Grammond, Trevor Miles, Joe Moore (Head Writer), Courtney Painter, R.J. Payne, Steve Swan, and Ashlee Rose Toll.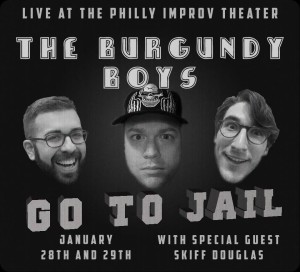 Opening both Thursday and Friday night's shows, The Burgundy Boys with their latest installment, 'The Burgundy Boys Go To Jail'. Earl Harris and Brett Rader (aka The Burgundy Boys, aka America's Little Brothers) find themselves in the biggest battle of their lives: the fight for freedom. The line dividing fact and fiction is blurred as the Burgundy Boys are interrogated after being found at the scene of a dangerous crime. Have the boys finally broke bad or is there an elaborate conspiracy hell-bent on ruining Brett and Earl's reputation? One no-nonsense cop is determined to find the truth and uphold justice…even if that means locking up the Burgundy Boys for good. The Burgundy Boys have rated this performance 'PG-13' which is not an approval or endorsement from the MPAA.
&nbsp#
The SideShow
Philly Improv Theater – 2030 Sansom Street (2nd Floor), Philadelphia, PA 19103
Friday, January 29th – 10:30pm / Tix – $10 Advance & $12 Door


The Sideshow was created by Mike Marbach and is PHIT's variety showcase for all types of comedy in one convenient slot. You want to see improv? We got it. Stand-up? Yup. Sketch? You betcha. And a ton of other funny things that don't quite fit into any one category. From established acts to one night only groupings to experiments gone wrong… the Sideshow has it all!
&nbsp#
The Good Good Comedy Theatre LIVE Telethon
Plays & Players Theater – 1714 Delancy Street, Philadelphia, PA 19103
Saturday, January 30th at 8pm to Midnight
Tix – $10 or donate to their kickstarter to get in for FREE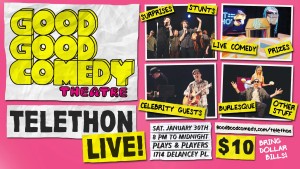 Aaron Nevins and Kate Banford are the creators of Good Good Comedy and they will be opening up a brand spanking new theatre in 2016! And they've done so through hard work and more than a little help from those who helped them reach their kickstarter goal in 48 hours. Amazing. To celebrate and continue fund raising they are hosting a 'once-in-a-lifetime experience' featuring an all-star lineup of Philly comedians, special guests, stunts, games, prizes, auctions, burlesque, alcohol and so much more. A combination of a classic fundraiser, a bizarre carnival and a marathon of entertainment, the Telethon will run from 8 PM to Midnight THIS SATURDAY at the Plays & Players Theater, and it only costs ten bucks to get in unless you'd rather donate to their kickstarter which can get you in for free. So far special guests include Joe Jack Talcum of The Dead Milkmen, burlesque performer Honeytree Evil Eye, and co-creator of the Comedy Central webseries Delco Proper, John McKeever. A word of advice if you're going… don't forget your dollar bills. We hear there will be tons of cool and weird things to do with them.
&nbsp#
&nbsp#
Know of a sketch show? Are we missing a sketch show? Send us your listing to [email protected] and it will go up.