Tonight at 8:30pm, Philly Sketchfest Presents will host sketch from the two Philadelphia groups that performed in the 2016 Chicago Sketch Comedy Festival, Spirit Animal and The Flat Earth. The entire event is hosted by comedian Alyssa Al-Dookhi and ticket proceeds will help them recover some of the costs associated with their trip. Philly Sketchfest sat down with Jacquie Baker, Adam Siry, Molly Silverman and Matthew Schmid of The Flat Earth to discuss what it's like performing comedy on the road, their experience at this year's Chicago Sketchfest and their upcoming (and second consecutive) appearance in March at the 2016 Toronto Sketch Comedy Festival…
&nbsp#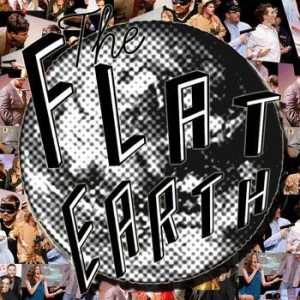 Philly Sketchfest : This is your second year in a row making it into Chicago Sketchfest. How was your experience in Chicago this year compared to last year? Any major differences?
Molly Silverman : We got to perform in 'The Box' this year, which, in my opinion, is the best space in the whole theatre; it was double the size of the space we performed in last year, but it's still small enough to feel intimate.
Adam Siry – Yeah, there was an actual backstage area which was nice. Other than that it was nice to know our way around a little./span>
Matthew Schmid : Also, 'The Box' has a trap door to enter the stage from the floor, which we quickly rewrote all of our sketches to include and be the focus of.
Molly Silverman : Adam crawled through it and it brought his character's intro to the next level. We sold out our show on Friday night which felt great.
Jacquie Baker : The turnout was amazing. We received a lot of genuine praise after our shows, and even ran into some people who made it a point to see us this year because they liked us so much last year. We were all very flattered and it made the trip totally worth it.
Molly Silverman : I got to see more shows this year and that was such a treat. It's nice to see other groups performing in these festivals and just seeing their style. We also got to eat Piquods deep dish pizza together the night of our second show, which was delicious and I'll be dreaming of that pizza until next year.
&nbsp#
Philly Sketchfest : Last year, The Flat Earth performed across North America in three national sketch comedy festivals (Chicago, San Francisco and Toronto) and then mere weeks after you returned to Philly you put up a brand new show. Did you end up writing material on the road? If so, what was that like comparatively from your traditional writing habits? Have you ever slip a new sketch in while you traveled?
Jacquie Baker : We didn't write anything on the road, and we've never actually ever written anything on the road where slipped it in later. We usually have our initial sketch ideas down one to two months before a show, and then re-write a ton, so I feel like throwing something really new into a set would throw a wrench in our system. We're too Type A.
Molly Silverman : We've definitely done touch ups to scripts on the road, though. We aren't too rigid with our writing process, strict rules kill creativity. If we perform a sketch in, say, Chicago, and a joke that hits a thousand times in Philly falls completely flat, we ask why and then we tweak if necessary.
&nbsp#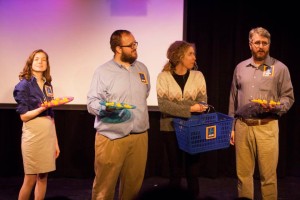 Philly Sketchfest : Do you find that material with geographic references, like your "Aldi" sketch plays everywhere or do you take that into consideration and make alterations to lines or tech?
Molly Silverman : We only performed Aldi in cities that have an Aldi, and we definitely take that into consideration.
Jacquie Baker : We do some online research before we launch a regionalism into the world. That's a (director) Paul Triggiani thing. Don't take chances. Google.
Matthew Schmid : San Francisco didn't have an Aldi, so we didn't do it. Most of our stuff is pretty universal and doesn't have a lot of local or regional in-jokes, but it's definitely a consideration when traveling.
Adam Siry – Regional call-outs aside, I'll tell you this; audiences outside of Philly tend to be less receptive to the amount of dead children in our sketches.
&nbsp#
Philly Sketchfest : Did anything get cut from your festival set this year that you really wish you could have included?
Adam Siry – I think we had enough good sketches this past year that a few had to be skipped, but I think our set captures our best work pretty well.
Matthew Schmid : There was an old one that I really liked that I nominated that was voted down called "The Dream," about a guy who shows up to his 8th grade math class in his underwear and assumes he's having a lucid, anxiety dream. It's a pretty dumb sketch and there's a lot of props, recasting, and other moving parts involved in staging it again, so I understand why it didn't get picked. It might have been fun to revisit it though.
Jacquie Baker : I think we're all happy with the set we have. It's all of our best material from 2015.
&nbsp#
Philly Sketchfest : What do you enjoy about traveling for comedy and performing outside of Philadelphia?
Molly Silverman : So much, where do I personally begin… The high of performing the first night – you're exhausted from preparing and traveling, expectations are generally low on the first night but you dig deep for this secret stash of energy and in the case of this years Chicago performance, the audience really enjoys the show and gets it. You can't match that feeling.
Matthew Schmid : I really love getting to perform for audiences outside of Philadelphia. Local shows are usually stacked with an audience of friends, family, and other performers and so sometimes I worry about getting false-positive reactions to material. It's nice going into a place where people are seeing you for the first time and judging your material in that moment.
Molly Silverman : Seeing other groups perform, what their style is and getting to discuss it with my Flat Earth cronies, exploring the city we are in, going out for meals and jut hanging, it's just invaluable bonding time.
Jacquie Baker : I love observing the differences in comedic sensibility between different cities. Personally, I think Toronto has the strongest sketch out of any city I've been to thus far. The acting and writing are A++, and I'm consistently blown away by how professional and incredibly nice they all are. Chicago sketch tends to be theatrical and use a lot of musical elements. NYC has that writerly-game-y stuff. Philly? Dark. Most of us are broken people. If the Philly sketch scene were an article of clothing, we'd be irregular jeans from Marshall's.
&nbsp#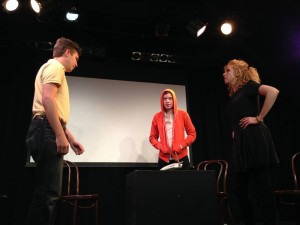 Philly Sketchfest : When traveling for comedy do you prefer to fly, train, bus or car-pool?
Matthew Schmid : I always prefer to car-pool. Road trips are my favorite thing in the world to do. They're great bonding experiences. Plus you get to stop along the way and eat at weird places.
Adam Siry – I always fly because I'm a boring person who likes being away from my house as short a time as possible.
Jacquie Baker : Whichever method is cheapest. I'm not at the point in my life where I choose based on actual preference.
Molly Silverman : I prefer to fly if I can afford to, I like the shortest period of travel so I can save all my energy for the performance. Last year I was working a really demanding job and really didn't have the option to take off time for work, and if I did take off time- chances were I was glued to my laptop answering emails in my downtime, and I had to fly back to Philly the very next morning after our shows wrapped. I got terrible FOMO when the majority of our group took a road trip to Canada. This year I took off some time from work so I can go on a road trip with everyone and I'm so f**king excited!
&nbsp#
Philly Sketchfest : Do you have time to be a tourist? What did you spend your free time, if any, doing in Chicago?
Matthew Schmid : I love being a tourist. The only problem with Chicago is that going in the winter is harsh. My favorite thing in Chicago was this comic store called Quimby's (based on Quimby The Mouse, a character created by Chicago native Chris Ware) which was packed with all kinds of weird graphic novels and indie comics (including a 9 dollar flip book of a wizard shitting into his own hand). We also got to see "Too Much Light Makes The Baby Go Blind," which was pretty incredible as well.
Adam Siry – I went to the Art Institute of Chicago this year, and we got some of that really good pizza Molly talked about. Because of my travel time I really only had one day where I could check out the city, so I tried to go somewhere different than last year.
Jacquie Baker : Most of the time we get to hang out at the cities we travel to. Last year, Chicago was a really short trip, and San Francisco was a vacation punctuated by a back-to-back performance and an after party where we saw Eugene Mirman but didn't talk to him. This year, we got to see more of Chicago and I was pleasantly surprised at how weird it was. We sang karaoke at a drag bar called Hamburger Mary's, and almost saw turtle racing at a bar. Almost.
Molly Silverman : I love sleep, but I try to make time to explore a bit when we are doing these festivals. We went to the same diner every morning when we were in Chicago this year and that was really fun. We squeezed into a couple of booths and ordered a shit ton of greasy delicious breakfast food; omelettes, pancakes, bacon- and they would just keep refilling our coffee, over and over again, non-stop, to the point where the amount of refills was bordering on aggressive.
&nbsp#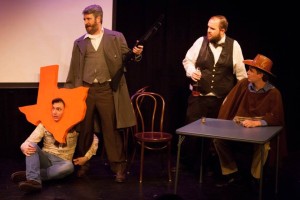 Philly Sketchfest : Any groups from the festival we should immediately google and check out?
Matthew Schmid : The two big standouts to me were both from Toronto: Fratwurst and 2 Humans. Fratwurst was wonderfully weird and explored some really dark places with sincerity and sweetness. 2 Humans are just the best group of all time – they do so many fun, intricate sketches with meticulous choreography that doesn't ever call attention to itself. I am very excited to see them perform at the Toronto Sketch Fest in March.
Adam Siry – Jet Jaguar, Two Humans, and Fratwurst were all great.
Molly Silverman : Jet Jaguar from LA, I really enjoyed their set, it was surprisingly dark, which I didn't expect.
Jacquie Baker : 2 Humans and Fratwurst were amazing. Yes, they're both from Toronto. Also, Pure & Weary. They're a sketch duo from Chicago who applied to Philly Sketchfest, so you may be able to see them in April…
&nbsp#
Philly Sketchfest : You'll also be traveling to Toronto Sketchfest in March for your second year in a row. Tell us what you're looking forward to now that you have one year in Toronto under your belt?
Molly Silverman : Seeing more shows and going on a mother fuckin road trip!
Matthew Schmid : We've made quite a few friends up there in the last two years (Jacquie and I also traveled there in 2013 for Alley Of Nightmares). So, it will be great to see and hang out with those folks. Toronto does a great job putting on panels and classes for their performers and every year I go I feel like I've re-learned how to write and perform. This year, Jacquie and I will be teaching a workshop at the festival so it's going to be really fun being a part of the festival in that way. Also – maple donuts at Tim Hortons and coffee at The Common.
Jacquie Baker : I'm thrilled to go back to Toronto. It's a lovely city and we have some sketch friends and real friends up there, so it feels like a second comedic home to me. Toronto Sketchfest is a very inclusive festival – even acts that didn't get in are invited to perform in a cabaret show, and they do a Sketch Up or Shut Up-type show up there – so you get to see a wide variety of acts in addition to the regular programming. I'm just as excited to watch the sketch groups as I am to perform. Also, The Flat Earth is road tripping this year. Brace your Facebook wall for a deluge of confusing inside jokes and context-less videos. I can't wait.
Adam Siry – Missing the festival this year for a different reason than last year!
&nbsp#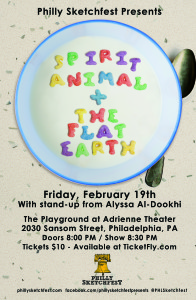 Philly Sketchfest : What can we expect from The Flat Earth on Friday? If you switched up lines for Chicago audiences, will you keep those intact as if you're playing to Chicago again?
Jacquie Baker : We had a longer block in Chicago than we will in Toronto, so we had to cut a few sketches. Good news: it'll be just as dark.
Matthew Schmid : Expect lots of sex and lots of death. Mostly death. It's a dark show.
Adam Siry – We're showing 30 minutes of slow motion footage of Michael Jordan dunking, just like we did in Chicago.
&nbsp#
You can see Jacquie, Adam, Molly, Matthew, Rich & Vincent of The Flat Earth and Spirit Animal perform their sets from Chicago Sketchfest tonight at 8:30pm at The Adrienne Theater Playground with stand-up from Alyssa Al-Dookhi. Tickets are $10 and available online via TicketFly NOW.