Tonight at 8:30pm, Philly Sketchfest Presents will host sketch from the two Philadelphia groups that performed in the 2016 Chicago Sketch Comedy Festival, Spirit Animal and The Flat Earth. The entire event is hosted by comedian Alyssa Al-Dookhi and ticket proceeds will help them recover some of the costs associated with their trip. Philly Sketchfest sat down with Kristin Finger of Spirit Aniaml to talk about their duo's origins, their experience at this year's Chicago Sketchfest and their upcoming (and second consecutive) appearance TONIGHT…
&nbsp#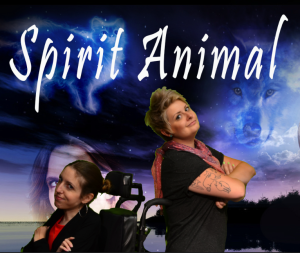 Philly Sketchfest : Both Shannon and you perform comedy individually across many forms and mediums; live improv, sketch, stand-up, online shorts, TV, film… With so many active comedy projects, what brought you together to add 'sketch comedy duo' to the list?
Kristin Finger : I had met Shannon around town, but then more closely while doing Figment Theater's Radio Hour production and we're kind of the same person. So it just made sense to do more projects together. I had been wanting to branch out into sketch and Shannon already had experience with it (Adventure Friends), so she was so supportive and pushed me to just do it! So I did!
&nbsp#
Philly Sketchfest : Chicago Sketchfest is very competitive to get into and as far as geographic representation, they typically select one group, two at the most, as representation from another city. This year, both Spirit Animal and The Flat Earth were selected. Tell us about how you found out and your reaction once you got in.
Kristin Finger : I think I found out by Shannon texting me. I'm pretty sure my response was, "I just pooped my pants!" To which she responded, "same". I couldn't believe it since this was the first sketch thing I'd ever done! I'm pretty sure it's all because of Shannon's awesomeness! I was just along for the ride.
&nbsp#
Philly Sketchfest : Tell us about your experience performing at Chicago Sketchfest 2016?
Kristin Finger : I was so humbled by the experience. The people running the show were all so kind and supportive. I couldn't believe that people were actually in the seat of the theater we were doing our show in. I just kept thinking, "oh, everything else must be sold out". Then our second night's show had about 30 pre-sales. I'm pretty sure people just gravitate to Shannon, so once again I was just along for the ride!
&nbsp#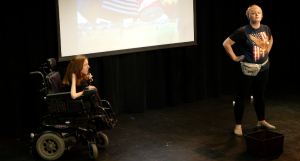 Philly Sketchfest : Did you feel anything didn't go over because it wasn't a reference a Chicago audience would know?
Kristin Finger : Well, we had a very specific 'Urban Outfitters' sketch that I guess if you're not an Urban shopper or you aren't aware of the 'hipster' community, the sketch didn't make much sense. Especially since Philly hipsters are most likely different then Chicago hipsters.
&nbsp#
Philly Sketchfest : Did you need to make any alterations to sketches, lines or tech in effort to have them play?
Kristin Finger : We had come prepared to hand over all of our files to the tech person at our tech rehearsal, but apparently they needed it as one PowerPoint presentation… so our entire tech rehearsal was spent building this PowerPoint instead of running the show. So our first night's show, was basically the "tech" show. But I'm just so happy Shannon and I are improvisers as well, that definitely came in handy at certain points.
&nbsp#
Philly Sketchfest : Did anything get cut from your festival set this year that you really wish you could have included? Why did you cut it?
Kristin Finger : I don't believe we cut anything. We may have even added some small lines here and there the second night once we discovered them the night before improvising through some of it, haha!
&nbsp#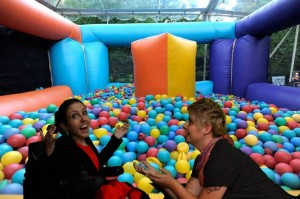 Philly Sketchfest : Do you have time to be a tourist when you're traveling for comedy? What did you spend your free time in Chicago doing?
Kristin Finger : It was colder then cold that weekend, plus some snow and rain. So, we stayed inside a lot, ate a lot of food, got cupcakes, visited the Urban Outfitters across from our hotel. Basically we're really good at doing nothing when we visit a city. TJ Miller was staying at the same hotel, so…. we felt pretty pimp just being in the hotel. Oh, we also got lost meeting my friend Dave Dritsas for lunch. So adventure is our middle name.
&nbsp#
Philly Sketchfest : What do you enjoy about traveling for comedy and performing outside of your home-town of Philadelphia?
Kristin Finger : I love getting to see what else is out there. We got to see a duo of two guys from Chicago, one of them was my improv teacher at Second City! So getting the opportunity to see him perform was a treat! I think it's important to not become safe with you comedy. Therefore traveling and seeing others forms, people and just stuff not in Philadelphia is so important. The comedy begins to become almost inbred if you only see stuff at the same theater and from the same people.
&nbsp#
Philly Sketchfest : Any groups from Chicago Sketchfest we should immediately google and check out?
Kristin Finger : Last Call Cleveland!!! Please watch their Zoobook video!!! I can't even handle how funny it is. Such a simple but powerful idea. And it helps that my generation was obsessed with Zoobooks when we had to go to any kind of doctors appointment and they were always in the waiting room!
&nbsp#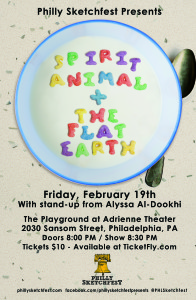 You can see Kristin & Shannon of Spirit Animal and The Flat Earth perform their sets from Chicago Sketchfest tonight at 8:30pm at The Adrienne Theater Playground with stand-up from Alyssa Al-Dookhi. Tickets are $10 and available online via TicketFly NOW.