It's the week of Thanksgiving and we have a lot of people to thank for all they did to make our Philly Sketchfest Presents November showcase such a success including performers Sweetish, Trout House (NYC), Eddie Finn, all the groups that took part in The Dirtiest Sketch in Philadelphia (editors note – check out the link for all the info including who won by clicking here), and last but certainly not least, Cynthia-Marie, Nicole Yates, Jaime Kelly and Dave Terruso. Now let's get all types of informed for Thanksgiving Week including a camera-phone film festival and a 38-hour long marathon of comedy…
Phone It In Film Festival presented by Good Good Comedy
Philamoca – 531 N. 12th Street, Philadelphia, PA 19123
Monday, November 23rd at 9:30pm
Tix – $5 (reservations available)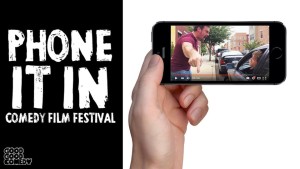 Created by Chris O'Connor, Dan Angelucci, Alex Grubard & Clay Hereth, Phone It In is a monthly film festival, made up entirely of videos that people shot on their cell phones. Is that sketch? It certainly could be and it's definitely an awesome opportunity. So go to this show, enjoy it, and then make it your business to get your phone charged and start shooting that sketch you always said you'd shoot but never did. Seriously, get your shit together and check out the guidelines here at their website here at the link.
<&nbsp>
Comedy Dreamz
Philamoca – 531 N. 12th Street, Philadelphia, PA 19123
Wednesday, November 25th 8pm – 11:59pm
Tix – $6 at the door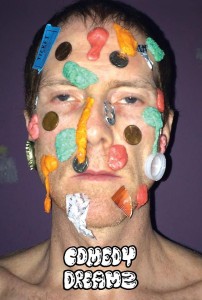 Comedy Dreamz is an eclectic night of stand-up, short plays/sketch, video, music, dance, and whatever happens in-between or during. The entire evening is curated and hosted by it's creators, Rose Luardo and Andrew Jeffrey Wright. It's also the home of the dance/performance art collective, Body Dreamz. This month's Body Dreamz performance features Ken Jones, Michael S. Watkins, Katie Deasy, Joe Bell, Molly Hanulec, Kate Banford, Sharkee Katz and Rob Baniewicz. There is also the promise of videos by Emilia & Rose and AJW (Andrew Jeffrey Wright). And that's not all… after the comedy, you can stay and dance the night away with DJs Jay Plus and Kurt Life!
<&nbsp>
<&nbsp>
<&nbsp>
The Black Friday Comedy Marathon 2015
Philly Improv Theater – 2030 Sansom Street, 2nd Floor Philadelphia, PA 19148
Friday, November 27th at 10:00am through Saturday, November 28th until 11:59pm
Full 38 Hour Access – $10 or Any Receipt Of Purchase From A Local Business Dated Friday, November 27th or Saturday, November 28th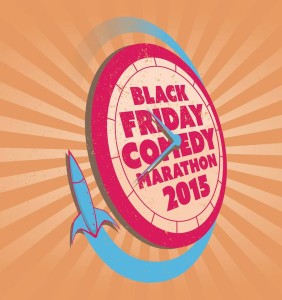 The Black Friday Marathon is 38 hours of non-stop comedy starting at 10:00am on Friday, November 27th and ending at 11:59pm on Saturday, November 28th. Now in it's second year, the 2015 edition reunites with last year's incredible hosts, Hey, We're Cool. Rumor has it Hey, We're Cool will also be bringing back the greenroom online live stream for those who are too busy visiting families or shopping at big box stores. The entire 38 hours of comedy is only $10 but you can get in for free too simply by spending locally on Black Friday Weekend. Just bring your receipt to the box office and you'll be given access to comedy of all forms (sketch, improv, story telling, stand-up, variety) from all over Philadelphia and beyond.
Sketch groups performing at this year's marathon include;
It's The New – Friday at 10:30am
Josh Higham's "My First Sketch" – Friday at 5:00pm
Good Wheel Hunting – Friday at 6:00pm
Adventure Friends – Friday at 7:05pm
The Incredible Shrinking Matt & Jacquie – Friday at 9:15pm
Your Mom – Friday at 11:00pm
Jack O'Keeffe's "A Charlie Harley Christmas" – Saturday at 12:30am
Caitlin Weigel's "The M&C Show" – Saturday at 12:45am
Mallory Rhodes' "Why NYC Is Better Than Philly" – Saturday at 3:15am
Julia Celley's "Locked In Julia's Basement" – Saturday at 4:00am
Josh Higham's "The Last Laugh (Exquisite Corpse)" – Saturday at 5:20am
One Act in 24 Hours – Saturday at 10:15am
Braized Stakes – Saturday at 11:45am
We Are Nannies – Saturday at 12:30pm
Charlie Shulman's "People Say I'm Sketchy – Saturday at 2:30pm
Brought to you By – Saturday at 3:45pm
Bludberry Phil (Musical) – Saturday at 5:00pm
Hoagie Fist – Saturday at 5:55pm
Patric Writes Sketches – Saturday at 7:45pm
Mike Sparra of The New Movement presents "conversations with Body Language" – Saturday at 10:35pm
Barbara Bush – Saturday at 11:00pm
<&nbsp>
Know of a sketch show? Are we missing a sketch show? Send us your listing to [email protected] and it will go up.