Yes, Philadelphia, there is a laser comedy show and it's going to be in town this week. Also, PHIT's monthly tag-team show of comedic monologues and filmed sketches returns for it's November edition.
<&nbsp>
Laser Comedy
Wednesday, November 6th – 9:00pm / Asian Arts Initiative – 1219 Vine St., Philadelphia, PA 19107 / Tix – $10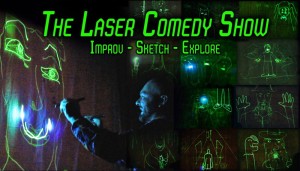 While traveling with The Flat Earth to this year's Chicago Sketch Comedy Festival, PSF producer Brian Kelly had the pleasure of meeting Chris Fair, the man (literally) behind Laser Comedy. So when we tell you we tell you that the show that followed met all expectations and more, we are not kidding. Truly a unique experience that MUST be seen to appreciate, Laser Comedy is currently visiting Philadelphia for the annual Philadelphia Improv Festival produced by Matt Nelson. While this trip will definitely be an improvised set (and not the half sketch/half improv hybrid seen in Chicago), the product remains the same; an awesomely unique & unorthodox way to perform comedy solely with lasers. Yes, LASERS. It's in the name, don't act so surprised now… One night only, get there.
<&nbsp>
Monologues at PHIT + Brought To You By…
Friday, November 6th at 9pm / PHIT – 2030 Sansom St. (2nd Floor), Phila, PA 19103 / Tix $10-$12

Filmed sketch offers groups an ability to reach audiences outside their locale while also opening up creative opportunities not available in a live format. However, the ability to receive immediate feedback from an audience is otherwise absent. That's where Brought To You By… fills the gap, premiering new filmed sketches from Philadelphia-area groups in front of a live audience. Hosted & curated by Casey Hogan, Peter Szekeres, and Alex Coffey, the trio also integrate live material in-between videos.
<&nbsp>
This month, videos from Matthew Schmid (The Incredible Shrinking Matt & Jacquie / The Flat Earth), Jon Plester (Jon & Ian Have Something To Tell You), Andrew Sigwart, Kris Hodge and Deborah Acosta. If you're a comedian with an inclination to film and edit your material, email [email protected] to inquire about having your video featured as part of an upcoming show.
<&nbsp>
After that, it's Monologues hosted & curated by Dru Kramcsak. This month's performers include Sarah Clemency, Jolie Darrow (Barbara Bush), Shaun Flegal, Brian Guay, Matthew Schmid (The Incredible Shrinking Matt & Jacquie / The Flat Earth), Caitlin Weigel (ManiPedi / House of Solitude / Sketchier) and host, Dru Kramcsak.
<&nbsp>
<&nbsp>
Know of a sketch show? Are we missing a sketch show? Send us your listing to [email protected] and it will go up.